Phentermine Tablets vs Phentermine Capsules
Since phentermine is manufactured by a variety of pharmaceutical companies, it comes in many different shapes and sizes, including both capsules and tablets. You may be wondering what the difference is between tablets and capsules, and which is better when it comes to phentermine, so here we run through why companies choose between the two and what the advantages and disadvantages of each are when it comes to your phentermine prescription.
Phentermine Tablets
The most commonly known form of phentermine is the white tablet with blue speckles, although there are also plain white tablets made by certain manufacturers, all of which can be seen here. Adipex-P, the most popular phentermine brand, comes in the form of white tablets with blue speckles, and it is thought that manufacturers such as Actavis Pharmaceuticals and Qualitest Pharmaceuticals copied this widely recognized design for their phentermine tablets to maximize their selling potential, as people often incorrectly believe that the blue speckles are the active phentermine ingredient.
In order to be effective for their intended use, tablets need to be designed according to the required release time, which can be either quick, delayed, or extended release. As phentermine is required to be released throughout the day in order to be effective, manufacturers design the phentermine tablets with the appropriate extended release dissolution control. This is achieved by the inclusion of inactive ingredients in the tablet, such as the coating, which control how the active phentermine ingredient is absorbed by the body. However, one disadvantage of tablets is that they can pass through the body without being completely absorbed, meaning that it is be possible that some of the phentermine fails to enter your blood stream.
Tablets are cheaper to make and so, patients often find that their prescription is cheaper to fill. Tablets can also be notched for splitting, which is an advantage that patients taking phentermine tablets have mentioned in the Phentermine.com support group on Facebook. If you find that your dosage is too strong and that the side effects are difficult to manage, as long as your doctor is in agreement, splitting your dosage by breaking your pill in half can be a good solution. Some doctors may also advise patients to begin by taking half a tablet and then working up to a whole tablet. With tablets there is also the option of taking half in the morning and then half before lunch, which can be particularly useful for people who experience an energy slump after lunch, as this is a key time of day when people are more susceptible to unhealthy cravings for sweet or fatty foods.
Another disadvantage of phentermine tablets is that they are only available in the maximum dosage of 37.5mg, so if your doctor feels that a lower dose is more suitable for you then it is likely you will be prescribed capsules, as these are available in doses of 15mg, 30mg, and 37.5mg.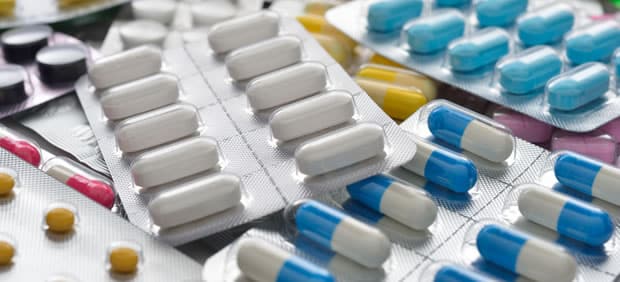 Phentermine Capsules
Phentermine capsules come in a wide variety of colors, and include the popular phentermine brand Adipex-P, the FDA-approved phentermine and topiramate combination Qsymia, and various dosages of generic phentermine. Adipex-P capsules are available in the 37.5mg dosage, as shown here, while generic phentermine capsules are available in either 30mg or 15mg, as shown here . Qsymia is available in four different dosages, ranging from 3.75mg of phentermine and 23mg of topiramate to 15mg of phentermine and 92mg of topiramate, all of which are shown here.
One major advantage of capsules is that they have a much better absorption rate than tablets as they begin to dissolve immediately in the stomach and there is little to no chance that any of the contents will fail to be absorbed by the body.  Capsules enter the blood stream immediately, so phentermine in capsule form contains slow-release ingredients to ensure that the effects are released throughout the day. Capsules have the added advantage of being able to provide an immediate boost of energy in addition to the extended release of effects, an advantage mentioned on the Phentermine.com support group on Facebook, as patients report feeling the initial boost of energy that is then sustained for longer throughout the day. Furthermore, unique mixes and ingredients are more achievable with capsules, which is why Qsymia is produced in capsule form. Qsymia provides prolonged appetite suppression and energy boosting effects by combining topiramate with low doses of phentermine, which would be difficult to produce as a tablet.
One disadvantage of capsules are that they are more expensive to produce, therefore a prescription for phentermine capsules can sometimes be more costly for patients. Although capsules cannot be split like tablets can, as they are available with lower dosages of phentermine there is more chance for your doctor to prescribe an appropriate dosage rather than just 37.5mg, and therefore there is less need for patients to have to split their dosage. As capsules are coated they are often easier to swallow than tablets.  If you still find it difficult to swallow the capsule, you may want to take the contents of the capsule out and mix it with liquid, but this is not advisable. Capsules are specially designed to be taken whole, including the case which usually contains time-release technology in the coating. By taking just the inner ingredients, you could cause the phentermine to become less effective, especially later in the day, or the medication could be released into your bloodstream too quickly which might worsen side effects. You should speak to your doctor if you continue to have difficulty in swallowing your medication and he or she may recommend that you take Suprenza, a brand of phentermine which dissolves on the tongue.
With phentermine, the decision to prescribe capsules or tablets will be dependent on your doctor and which of the two they believe to be a better option for you. The main advantages of tablets are that they are cheaper and can be split in two, both of which can be preferable to you as the patient. However, capsules are absorbed better by the body and, in the case of phentermine, they are available in a wider variety of dosages and brands, including Qsymia, the phentermine and topiramate combination, due to capsules being better suited to more complex and unique ingredient mixes.
Have you taken phentermine in capsule form or tablet form? If you've taken both, which do you prefer? Let us know by commenting below.