Alli: FDA-approved over-the-counter weight loss medication
Alli is a medication that could help you to lose more weight than dieting alone. As part of our series of articles about weight loss drugs, we will look more closely at the ingredients, safety, and efficacy of Alli to help you decide if this medication could be right for you.
If you are considering both Alli and phentermine, please have a look at our detailed comparison article.
What is Alli?
Alli is the only FDA-approved over-the-counter medication that assists with weight loss. It is indicated for overweight adults, with a body mass index (BMI) of at least 25. To achieve a healthy weight, the capsules should be taken in conjunction with a low-fat diet and a modest reduction in calorie intake.
The key ingredient in Alli pills is orlistat. Marketed as Xenical at a dose of 120mg, orlistat has been an approved prescription medication in the USA since 1999. With its lower dose of 60mg, Alli was approved as an over-the-counter treatment in 2007. (1)
Alli is manufactured by GlaxoSmithKline, headquartered in London, England.
What does the Alli pill look like?
The capsules are blue and are imprinted with the words 'Orlistat 60mg'. A darker blue stripe appears at the center due to the two halves of the capsule joining.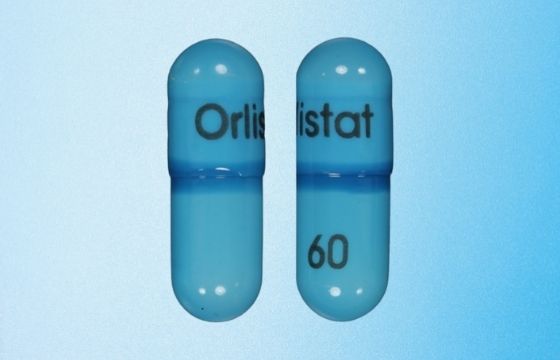 How does it work?
The active ingredient in Alli, orlistat, prevents the body from breaking down the fat we eat by inhibiting gut lipases in the digestive system. Orlistat also reduces the absorption of lipids, an energy-dense nutrient.
By preventing the breakdown and absorption of dietary fat in the gut, fats pass through the digestive tract to be excreted in the feces. Despite some fat still being consumed, the lack of absorption causes a caloric deficit, aiding weight loss. Taking orlistat has been found to lead to greater weight loss than following a diet alone. (2)
How should I take Alli?
Alli is a capsule that should be taken three times daily. Each capsule contains 60mg of orlistat.
Swallow one Alli capsule with water immediately before, during, or up to one hour after each main meal. If a meal is missed, or the meal contains no fat, the dose of Alli should be omitted.
For best results, start Alli in conjunction with a mildly hypocaloric, low-fat diet, and regular exercise.
If, after 12 weeks of taking Alli, you have lost more than 5% of your body weight, you can continue the capsules for up to six months. After six months, you should take advice from a medical professional before continuing with Alli.
If you have not lost more than 5% of your initial body weight within the first 12 weeks, it is unlikely that Alli will work for you. Alli should be stopped at this point.
How much weight can I lose?

In a clinical trial, taking 60mg of orlistat for 24 weeks led to greater weight loss when compared to a placebo. In a trial of volunteers with a BMI of 30-35, those who took Alli Orlistat 60mg lost 6kg (or 7% body weight), compared to 4kg (4%) for those taking a placebo. (3)
Most people lose 5 to 10 pounds over six months. (4)
In trials lasting two years, participants lost 7 to 10% of their weight, which was approximately 3% more than those taking a placebo. Weight maintenance was also significantly more successful with Alli Orlistat 60mg than with a placebo. (3)
Alli diet pills don't just help you to lose weight. A study in overweight soldiers showed that taking 60mg orlistat and following a low-fat diet led to a reduction in fat mass. The control group, who followed the diet and took a placebo medication, lost more lean mass. Orlistat may therefore help you to lose fat while protecting against loss from muscles. (5)
Orlistat is also associated with improving certain complications of obesity, lowering cholesterol, blood pressure, and heart rate in clinical trials. (6), (7)
Does Alli have side effects?
The side effects of Alli are mostly gastrointestinal and are due to the inhibition of fat absorption. If too much fat is consumed when taking Alli, side effects may occur including flatulence, more frequent or loose stools, stools that are harder to control, or passing gas with oily residues.
Alli's inhibition of lipase can also reduce the body's ability to absorb fat-soluble vitamins, including vitamins D and E. (8) A multivitamin should therefore be taken every evening.
What should I avoid when taking Alli?
As with all medications, there are some precautions and interactions to be aware of before starting Alli.
Precautions
Alli works best in combination with a low-fat, reduced-calorie diet, and regular physical activity. To minimize the risk of gastrointestinal side effects, fat should account for less than 30% of the daily intake (approximately 40 to 60 grams). (8), (9)
Alli must not be used during pregnancy or when breastfeeding.
Interactions
If you take any other medication, you must seek advice from your doctor before starting Alli. Drug interactions can occur between Alli and ciclosporin, anticoagulants, levothyroxine, anti-epileptic drugs, and other medications.
Should you try Alli?
Moderate weight loss of 5 to 10 pounds in six months is possible when the capsules are taken in conjunction with a low-fat, lower-calorie diet. (4) However, Alli is unlikely to lead to successful weight loss in those who are unable to commit to the required lifestyle changes.
Alli should be tried by those who are ready to benefit from the additional weight loss boost that Alli provides, and can commit to the low-fat dietary requirement.
You might also be interested in learning about the other weight loss medication options currently available on the market. We further recommend reading our in-depth comparison of Alli vs phentermine.
FAQs
References
1. US Food and Drug Administration (Alli Approval).
2. Thomas EL et al. Pragmatic study of orlistat 60mg on abdominal obesity. European Journal of Clinical Nutrition. 2011; 65: 1256-1262.
3. Smith TJ et al. Case Study: Efficacy of Orlistat 60mg Treatment for Weight Loss. Topics in Clinical Nutrition. 2012; 27 (4): 339-347.
4. US Food and Drug Administration (Alli Label).
5. Smith TJ et al. Efficacy of Orlistat 60mg on Weight Loss and Body Fat Mass in US Army Soldiers. Journal of the Academy of Nutrition and Dietetics. 2012; 112 (4): 533-540.
6. Tonstad S et al. The effect of the gastrointestinal lipase inhibitor, orlistat, on serum lipids and lipoproteins in patients with primary hyperlipidaemia. European Journal of Clinical Pharmacology. 1994; 46 (5): 405-410.
7. Heck AM et al. Orlistat, a New Lipase Inhibitor for the Management of Obesity. Pharmacotherapy. 2000; 20 (3): 270-279.
8. MyAlli.com (Alli FAQs)
9. Kaswala Dh et al. Hydroxycut-induced Liver Toxicity. Annals of Medical and Health Science Research. 2014; 4 (1): 143-145.