Qsymia: Phentermine and Topiramate​
Qsymia is prescription-only weight loss medication that contains a combination of phentermine HCl and topiramate extended-release. This drug, which received FDA approval in 2012, helps manage obesity longer-term than phentermine alone, but also carries the risk of additional side effects ( 1 , 2 ).
As of 2017, over two million Qsymia prescriptions had been filled in the US ( 3 ).

What is Qsymia?
Qsymia is a prescription weight loss medication that contains a combination of phentermine HCL (Adipex) and topiramate extended-release (Topamax).
Phentermine HCL works as a central nervous system stimulant to activate a "fight or flight" -like response. Like amphetamines, phentermine sends signals to the brain to suppress huger and boost energy.
Topiramate extended-release is an anti-seizure medication that promotes weight loss as well. It increases feelings of fullness, makes food taste less appealing and increases caloric expenditure ( 4 ).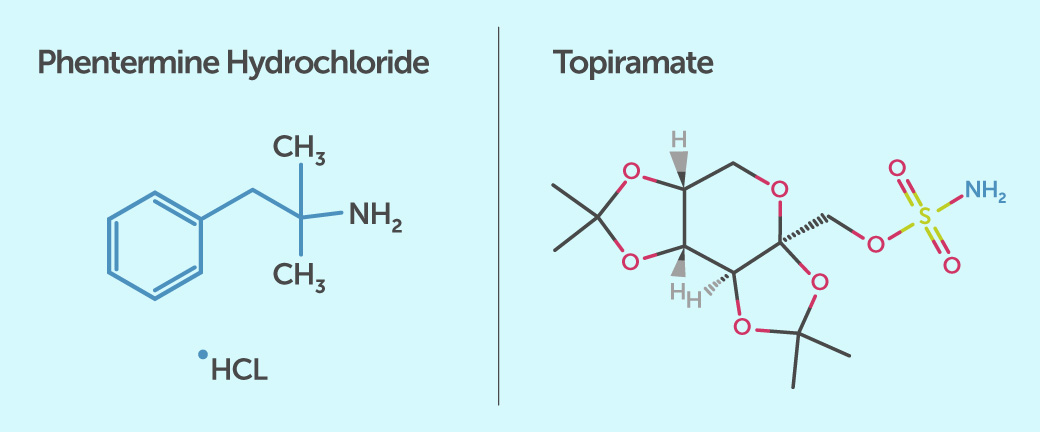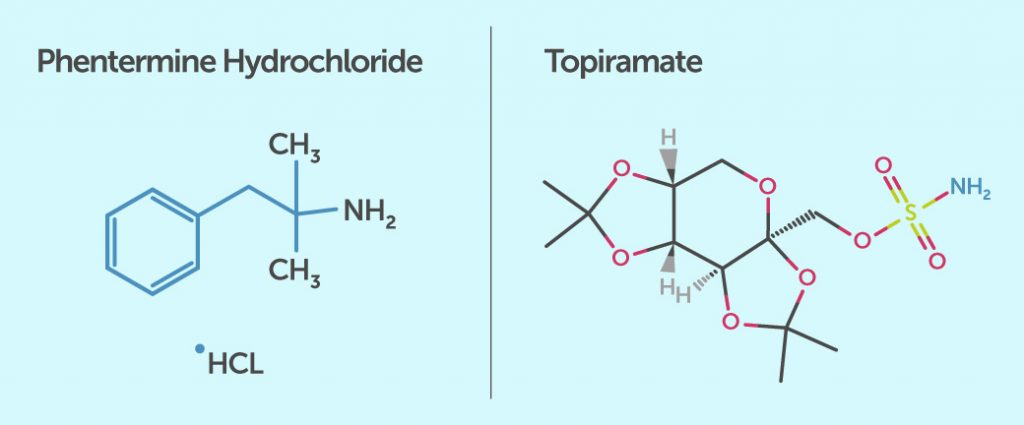 Qsymia is prescribed for the management of exogenous obesity in adults with a body mass index (BMI) greater than 30 kg/m2. It is indicated for overweight adults with a BMI greater than 27 kg/m2 who suffer from an additional weight-related complication such as type 2 diabetes or high blood pressure.
Unlike traditional phentermine pills, which can only be taken for up to 12 weeks, Qsymia has been approved for long-term use (up to 3 years).
The medication is prescribed alongside healthy diet and regular exercise ( 1 ).
Contraindications
Qsymia, like other prescription weight loss drugs, is generally regarded as safe when used as directed. However, this medication is not appropriate for everyone.
Qsymia is contraindicated (not safe) in the presence of:
Pregnancy (Category X medication)
Glaucoma
Hyperthyroidism (overactive thyroid)
Prior reaction to sympathomimetic amines
Current or recent (≤ 2 weeks) monoamine oxidase inhibitor (MAOI) use
In addition to outright contraindications, use of Qsymia is prefaced by a number of warnings and precautions. Tell your doctor if you have, or have ever had:
Allergies, especially to a sympathomimetic amine (e.g. pseudoephedrine or amphetamine) or other medications
Heart disease or stroke
High blood pressure or pulmonary hypertension
Glaucoma
Personal or family history of a substance abuse
Mental illness or mood disorders, such as depression or anxiety
Hyperthyroidism
Seizures
Liver or kidney disease, including kidney stones
Metabolic acidosis, or any condition that puts you at higher risk (e.g. chronic diarrhea, a ketogenic diet or low bone density)
Your doctor also needs to know if you have diabetes mellitus, use marijuana or think you may become pregnant in the imminent future.
Due to the high potential for drug interactions, your doctor and pharmacist need to know about all prescription or OTC medications, herbal supplements, vitamins and drugs that you take right now, or have taken in the last 14 days. Take extra care to mention any birth control pills, diuretics, carbonic anhydrase inhibitors, seizure medications, or any other drugs that impair thinking, concentration or coordination ( 5 ).
Pills and Dosage
Qsymia is currently available in 4 different doses.
All four doses are sold as capsules, and contain varying amounts of phentermine hydrochloride and topiramate extended-release. Daily dosage ranges from 3.75/23 (3.75mg phentermine plus 23mg topiramate) to 15/92 (15mg phentermine plus 92mg topiramate) ( 5 ).
| Capsule Color​ | Phentermine HCL​ | Topiramate Extended-Release​ |
| --- | --- | --- |
| Purple | 3.75mg | 23mg |
| Purple & Yellow​ | 7.5mg | 46mg |
| Yellow​ | 11.25mg | 69mg |
| Yellow & White​ | 15mg | 92mg |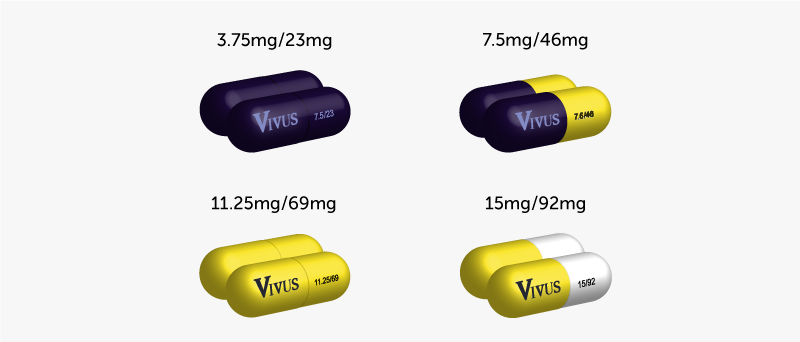 Doctors typically start patients on the lowest strength possible, and then gradually increase dosage according to a set schedule. However, individual dosing schedule can only be determined by a medical professional.
That being said, here is a standard Qsymia dosage progression ( 5 ):
Start treatment with one 3.75mg/23mg capsule each morning for 2 weeks. Starting in week 3, take one 7.5mg/46mg capsule each morning. At 3 months, the doctor should either stop the medication (if it's not proving effective) or increase dosage to 11.25mg/69mg once per day. After 2 weeks on 11.25mg/69mg, daily dosage will be increased to the maximum of Qsymia 15mg/92mg.
Always take Qsymia EXACTLY as prescribed. Never take a different dose, or take the medication more or less often, than prescribed.
If you miss a dose of Qsymia, it is best to skip the missed dose and then continue taking the medication normally the following day.
NEVER take a double dose to make up for a missed pill. Taking more medicine than directed can lead to a dangerous, potentially fatal overdose.
Side Effects
Possible side effects of Qsymia range from relatively minor to very severe.
Most users will experience one or more minor reaction to this medication. Some of the most common Qsymia side effects include ( 5 , 6 ):
Numbness or tingling in limbs and/or face (paranesthesia)
Changes in/ loss of taste (dysgeusia)
Trouble sleeping (insomnia)
Dry mouth (xerostomia)
General central nervous system side effects, including constipation or mild headache

Some patients to experience serious – sometimes life threatening – side effects to this medication.
Seek immediate medical attention if you experience any of the following symptoms while taking Qsymia ( 5 ):
Increased heart rate
Serious changes in mood (thoughts about suicide, depression, anxiety, panic attacks, feeling agitated or restless, irritability, acting aggressive, being angry, or exhibiting violent behavior, acting on dangerous impulses)
Eye problems (sudden decreases in vision, with or without pain and redness, or a blockage of fluid that leads to pressure build-up)
Difficulties with concentration, memory or speech
Metabolic acidosis (evidenced by tiredness, loss of appetite, changes in heartbeat and/or confusion)
Low blood sugar (hypoglycemia) in people with type 2 diabetes
Dizziness or lightheadedness
Changes in blood pressure
Kidney stones (evidenced by severe side or back pain and/or blood in the urine)
Decreased sweating and fever
Seizures (after stopping Qsymia abruptly)
This list does NOT contain all possible side effects of Qsymia.
How to Get Qsymia Prescribed

If you are interested in exploring potential pharmaceutical weight loss options, schedule an appointment with your primary care doctor. If he or she does not prescribe Qsymia, consider speaking with a weight loss clinic or specialist (e.g. a bariatric doctor or gynecologist).
Qsymia is a schedule IV-controlled substance, so it is NOT available without a prescription
Where to Fill Your Prescription
Qsymia is available from most major pharmacies in the United States, including certified mail-order pharmacies.
Due to its drug schedule, these capsules are not available from all online pharmacies. At this time, Qsymia prescriptions can only be filled in-person or through the following certified mail-order pharmacies: Walgreens, Walmart and Kaiser Permanente ( 7 , 8 ).
Qsymia Cost
Qsymia costs around $200 per month before discounts.
The table below provides the estimated cost for a 30-day supply of Qsymia before tax, insurance and manufacturer coupons.
Qsymia costs around $200 per month before discounts.
| Dose | Estimated Monthly Cost​ |
| --- | --- |
| 3.75mg / 23mg​ | $187-$198​ |
| 7.5mg / 46mg​ | $193-$205​ |
| 11.25mg / 69mg​ | $205-$219​ |
| 15mg / 96mg​ | $206-$220​ |
NOTE: These prices are only estimates and do not represent any type of guarantee or coupon. Updated March 2019 [9].
When compared to the cost of other phentermine pills, Qsymia is an expensive option. More, weight loss medications are NOT covered under most insurance plans, including Medicaid in most states ( 10 ).
Thankfully, VIVUS, Inc. offers a generous manufacturer's discount. The Qsymia Advantage program entitles you to two weeks free of the starter dose (3.75mg/23mg), caps the monthly cost of Qsymia at $98 for any dose and provides an at-home delivery service.
User Ratings
Wondering what real users think about Qsymia (phentermine & topiramate)? Recent reviews indicate that patients are pleased with their weight loss results, but warn against using the mail order service and complain of bothersome side effects.
Qsymia has an average user rating of 3.9/5:
Here are some Qsymia reviews from recent users:
Becky – Qsymia
Only been taking Qsymia for a little over 2 weeks. So happy with it! I keep water nearby all the time because I'm ALWAYS thirsty, but no other side effects. Actually have to remind myself to eat… So far I've lost 7 pounds. Can't wait to keep watching the weight fall off!
Raquel – Not Satisfied At All
Not worth it… Never did anything for me. Only lost 13 pounds in 3 MONTHS and side effects were terrible, especially the first month. Better to do weight watchers or something like that.
Perksta – 5 Stars
Started this medication September 6 weighed in at 176 lbs. Today is November 3 current weight is 153 lbs – no workouts/gym. I only take one pill daily in the morning. I will be getting my last fill on Monday, very happy with this medication. Only side effects were the first 3 days I experienced insomnia.
Who Makes Qsymia?​
This medication is manufactured by VIVUS, Inc. – a California-based pharmaceutical company. They currently produce medications related to obesity, sleep and sexual health ( 11 ).
Please find their contact information below: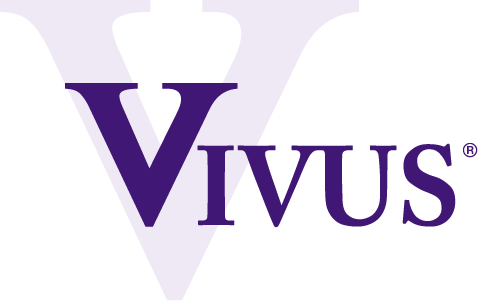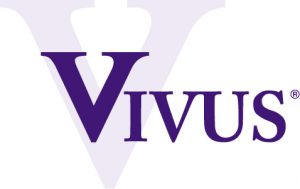 VIVUS, Inc.
1172 Castro Street
Mountain View, CA 94040
USA
Company Phone: 650-934-5200
Medical Information Phone: 1-888-998-4887
Corporate website: www.vivus.com
Medication Website: www.qsymia.com
References
Informational resources for further reading:
U.S. Food & Drug Administration. (2012, July 17). Drug Approval Package: Qsymia (phentermine and topiramate extended-release) Capsules CIV. Drug Approvals and Databases.
Uwaifo, G., Cosentino, G., & Conrad, A. (2013). Phentermine and topiramate for the management of obesity: A review. Drug Design, Development and Therapy, 7, 267-278. doi:10.2147/dddt.s31443
VIVUS, Inc. (2018). Lose weight and keep it off with Qsymia.
Drugs.com. (2019, January 15). Phentermine and Topiramate (Professional Patient Advice).
VIVUS, Inc. (2014, September). Medication Guide: Qsymia® (Kyoo sim ee' uh) (phentermine and topiramate extended-release) Capsules CIV.
VIVUS, Inc. (2017). Medication Guide.
VIVUS, Inc. (2014). Risk Evaluation and Mitigation Strategy (REMS).
U.S. National Library of Medicine. (2006, January 12). Hazardous Substances Data Bank (HSDB): Phentermine.
GoodRx. (2019, March). Qsymia: Phentermine and Topiramate.
Gomez, G., & Stanford, F. C. (2017). US health policy and prescription drug coverage of FDA-approved medications for the treatment of obesity. International Journal of Obesity, 42(3), 495-500. doi:10.1038/ijo.2017.287
VIVUS Inc. (2018). VIVUS: About VIVUS Inc.