Wegovy: the newest injectable weight loss medication
Wegovy is the newest weight loss medication to be approved by the US Food and Drug Administration (FDA). As part of our series of articles about weight loss prescription drugs, we will look more closely at this latest addition to the market, to help you decide if Wegovy could be right for you.
If you are considering both Wegovy and phentermine, please have a look at our detailed comparison article.
What is Wegovy?
Wegovy is an injectable weight loss medication that contains the active ingredient semaglutide.
It works by mimicking a hormone called glucagon-like peptide-1, or GLP-1. GLP-1 mimics incretin to help reduce the appetite. (1) With a smaller appetite, it is easier to eat less and consequently lose weight.
Wegovy approval was granted by the FDA in 2021. It is prescribed for adults with a body mass index (BMI) of 30 or more or those with a BMI of 27 or more and weight-related medical ailments. At a lower dose, semaglutide has been used since 2017 to treat patients with type 2 diabetes. (1)
The medication is manufactured by Novo Nordisk, headquartered in Bagsværd, Denmark.
What does Wegovy look like?
Semaglutide is contained within the prefilled Wegovy pen. The dose is preset, and the needle is invisible.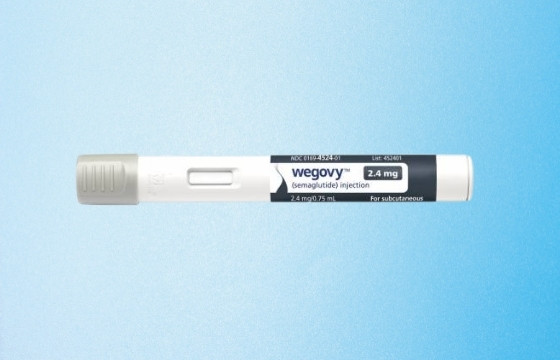 Five different dose pens are available, as it takes up to 20 weeks to reach the full dose of 2.4mg. Each pen is a different color and labeled with its dose. You will need to use a new pen every time you inject. (2)
How does it work?
By mimicking GLP-1, Wegovy works on areas within the brain that regulate our appetite and how much food we consume. It reduces hunger and increases the feeling of fullness. This makes it easier to eat less and therefore lose weight.
Wegovy is injected once a week, and in clinical trials has been shown to lead to significantly greater weight loss than placebo. (3)
How much weight can I lose?
In people without diabetes, a 68-week trial reported that taking Wegovy 2.4mg led to an average weight loss of 17-18%. Encouragingly, this weight loss was sustained during the trial, without tolerance to semaglutide occurring. A separate trial of adult diabetic patients showed weight loss of around 6.2% compared to those who took a placebo. (1), (3)
Prior to approval by the FDA, around 2,600 patients received treatment with Wegovy with promising weight loss results observed overall. (1)
How should I take Wegovy?
Wegovy is an injectable medication. The drug is increased on a dose-escalation schedule, with different pens containing a different dose of semaglutide.
When you start Wegovy, you should follow the dose-escalation schedule to avoid gastrointestinal side effects. (4)
| | |
| --- | --- |
| Week | Dose |
| Weeks 1-4 | 0.25mg |
| Weeks 5-8 | 0.5mg |
| Weeks 9-12 | 1mg |
| Weeks 13-16 | 1.7mg |
| Week 17 onwards | 2.4mg |
Wegovy must be kept refrigerated from 2oC to 8oC. The solution can be viewed in the pen's window and should appear clear, colorless, and without any particles. On your dosing day, you should inject the correct dose subcutaneously into the abdomen, thigh, or upper arm. The dose should be given once weekly on the same day each week, at any time of day. Always read the instructions to ensure you take the medication correctly. (4)
Wegovy is approved for long-term treatment. While taking semaglutide, your doctor should complete regular reviews to ensure that Wegovy is aiding weight loss without causing side effects. (1)
Does Wegovy have side effects?

The most common side effects are gastrointestinal. In clinical trials, participants taking semaglutide noted nausea, diarrhea, vomiting, constipation, abdominal pain, indigestion, belching, flatulence, reflux, and gastroenteritis. The gradual dose escalation schedule is designed to minimize these most common side effects. (1)
Unfortunately, more serious adverse events can occur when taking Wegovy. These include:
Pancreatitis
Gallbladder disease
Acute kidney injury
Low blood sugar (particularly in diabetic patients)
Diabetic retinopathy
Increased heart rate
Suicidal ideation or behavior.
If you have concerns prior to, or during, treatment with Wegovy, you must speak to your doctor. (1)
What should I avoid when taking Wegovy?
Wegovy has shown great promise, but it is not suitable for everyone. It is important to check whether the precautions and interactions associated with semaglutide affect you.
Precautions
Rarely, the Wegovy injection has been associated with thyroid cancer. If you (or someone in your family) have had thyroid cancer or have Multiple Endocrine Neoplasia type 2 (MEN 2) then you must not take Wegovy.
This medication must also not be used by anyone with an allergy to semaglutide or any other ingredient in Wegovy. If you have pancreatic or kidney disease, have diabetes or have had suicidal ideation in the past, you must tell your prescriber.
Wegovy is not suitable for pregnant women or breastfeeding mothers. (2)
Drug interactions
Wegovy may interact with insulin or sulfonylureas used to lower blood glucose levels in diabetics. If you have diabetes, your doctor may need to reduce your dose of anti-diabetic medications.
Wegovy may slow gastric emptying, affecting the absorption of any medications you take orally. Your doctor should assess whether this could be an issue for you.
Should you try Wegovy?
Wegovy has shown promise as a new, long-term weight loss medication. Patients benefit from reduced appetite and can lose a significant amount of weight. However, some people find the digestive side effects intolerable. Despite this, if you are looking for a long-term weight loss aid, Wegovy is certainly a medication you may wish to consider.
Before requesting Wegovy from your doctor, you may be interested to find out about other weight loss drugs available on prescription and over the counter.
You can also read our in-depth comparison of Wegovy vs phentermine.
FAQs