Bontril: standard and extended-release weight loss drug
Bontril is a prescription medication that is used to aid weight loss in patients who have a body mass index (BMI) of over 30. As part of a series of articles, we are studying different appetite suppressants to help you find a safe, effective medication to help you lose weight.
What is Bontril?
Bontril is an appetite suppressant that contains the active ingredient phendimetrazine tartrate. It belongs to a class of drugs called sympathomimetic amines. With some similarities to amphetamines, this is a central nervous system stimulant that may have an anorexiant effect. The medication is usually recommended for short-term use, with the FDA approving its use for up to 12 weeks. It should only be prescribed as part of a weight-reduction plan that includes calorie restriction. When taken in combination with a low-calorie diet, taking Bontril may assist with weight loss. (1) (2)
The weight loss drug comes in two doses, namely 35mg (standard release capsule) and 105mg (extended-release capsule). It is manufactured by Valeant Pharmaceuticals North America, based in Hobart, NY.
What does a Bontril pill look like?
Bontril 35mg pills are triple-layered green, white, and yellow tablets. On the side with a scoreline, the top half is imprinted with the letter B and the bottom half with the number 35. On the other side of the pill, the letter V is imprinted.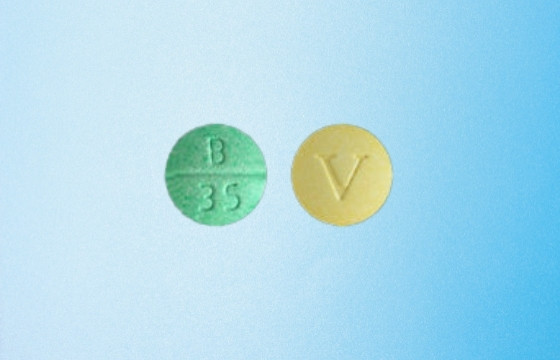 Bontril 105mg extended-release capsules are half green and half yellow. The yellow half is translucent. The capsules are printed with the words Valeant and Bontril 105.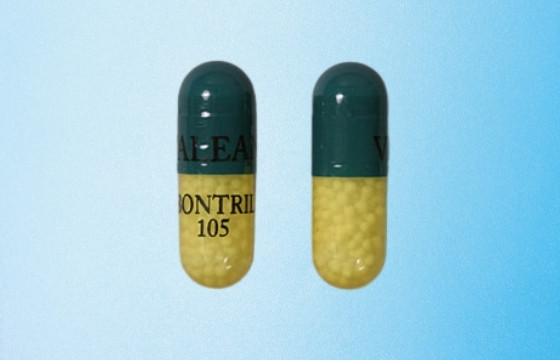 How does it work?
The active ingredient in Bontril is phendimetrazine tartrate. This drug stimulates the central nervous system and suppresses the appetite. With similarities to amphetamines, Bontril activates the alpha-adrenergic system to increase metabolism. It may also increase behavioral alertness and excitation. (3) In a study in 2019, obese patients treated with phendimetrazine and diet were likely to lose more weight than those treated with placebo and diet. (1)
How much weight can I lose?
Relatively short clinical trials have shown that obese adult participants lost more weight on average when taking Bontril with a low-calorie diet than those who dieted and took a placebo tablet. However, the difference in weight loss during the study was only a fraction of a pound more. (1) Weight loss was greatest in the first few weeks of therapy for both groups. (4)
The exact mode of action of phendimetrazine remains unclear, and factors that might influence the amount of weight loss in trials could include the population being treated, the diet participants were asked to follow, and the physician investigator. (4) As limited evidence exists about the efficacy of Bontril, it should only be used for a short period.
How should I take Bontril?
For a BMI of over 30, the recommended dose of standard release Bontril is 35mg two to three times daily one hour before meals. Extended-release capsules (105mg) are absorbed into the body more slowly and the standard dose is, therefore, one capsule 30 to 60 minutes before breakfast.
For best results, Bontril should be taken with a low-calorie diet and regular physical activity.
If Bontril is taken for more than 12 weeks, its effects are likely to become negligible. However, the risk of addiction may increase. (1) (4)
Does Bontril have side effects?
Like other anorectic agents, taking this drug poses some health risks due to stimulation of the central nervous system. The most common adverse side effects are restlessness, hyperactivity, a tremor, and trouble sleeping. Some people notice dizziness, a dry mouth, blurred vision, and flushing. Digestive complaints include diarrhea and constipation. A change in libido and reduced urinary frequency were noted by some. (1) (5)
Due to Bontril's effect on vision and alertness, you must not drive, operate machinery, or take part in any activity that requires normal levels of attention or concentration.
One of the rare but serious side effects associated with Bontril is a hypertensive crisis. If you notice a severe headache, blurred vision, or a pounding sensation in your head, neck, or ears, contact your doctor for medical advice immediately. (1) In rare cases, Bontril has been associated with heart valve damage and pulmonary hypertension. (2)
What should I avoid when taking Bontril?
As with all medications, it is important to be aware of the precautions and drug interactions.
Precautions
Bontril is not suitable for patients with hypertension (high blood pressure), arteriosclerosis, cardiovascular disease, hyperthyroidism, glaucoma, or a history of substance misuse.
As a stimulant, there is a risk that phendimetrazine can become addictive when taken long-term. It is therefore important not to exceed the recommended treatment period of 12 weeks.
This medication should not be used by women who are pregnant or breastfeeding. (1)
Interactions
If you take any other medications, you must seek advice from your doctor before starting Bontril. Interactions may occur with MAOI antidepressants, and medications used to treat high blood pressure and diabetes. Bontril must not be taken with any other weight loss medications. You should also avoid alcohol and caffeine, as consuming these may increase the severity of side effects. (5)
Bontril vs. Phentermine

Bontril and phentermine are often compared as they are both sympathomimetics. Phentermine, often known by its brand name Adipex P, is also an amphetamine-like prescription medication that suppresses the appetite. Phentermine's success rate and safety profile have been more extensively studied than that of Bontril.
A larger number of studies into phentermine mean that weight loss in trials has been accurately recorded. Phentermine's safety profile is also better understood than that of Bontril. (7)
Is Bontril stronger than Phentermine?
Bontril is a schedule III drug, whereas phentermine is schedule IV. This doesn't mean that Bontril is stronger, but that it is more likely to have restrictions on access due to its greater potential for addiction or dependence. (6)
Can I take Bontril and Phentermine at the same time?
Although the two weight-loss drugs work in a similar way, taking them together is not recommended as this increases the risk of side effects.
Should you try Bontril?
In trials, taking Bontril with a low-calorie diet led to slightly greater weight loss compared to placebo and diet. (1) However, the weight loss was marginal. As there are numerous potential side effects, it is important to monitor your weight to ensure weight loss success outweighs any adverse reactions.
Before trying Bontril, you may also want to learn about other weight-loss drugs that are currently available.
FAQs