Tenuate: a short-term treatment for obesity
Tenuate is a medication that may be beneficial for obese adults who want to lose weight. As part of our series of articles, we will look in detail at the efficacy and safety of Tenuate to help you decide if it is right for you.
If you are considering both Tenuate and phentermine, please have a look at our detailed comparison article.
What is Tenuate?
Tenuate is a US Food and Drug Administration (FDA) approved medical appetite suppressant. It is only recommended for adults with a body mass index (BMI) of 30 or higher who have not lost weight through diet and exercise alone.
Tenuate contains the ingredient diethylpropion, a stimulant with similarities to amphetamine. It rouses the central nervous system (CNS), increasing the heart rate and blood pressure, and decreasing the appetite. (1) Each Tenuate pill contains 25mg of diethylpropion, whereas Tenuate Dospan is a 75mg sustained-release tablet. (2)
Both doses are manufactured by Patheon Pharmaceuticals Inc., based in Cincinnati, Ohio. (2)
What does Tenuate Look Like?
Tenuate is a white, oval-shaped pill imprinted with WATSON 782. Tenuate Dospan is also white and oval but is imprinted with TENUATE 75.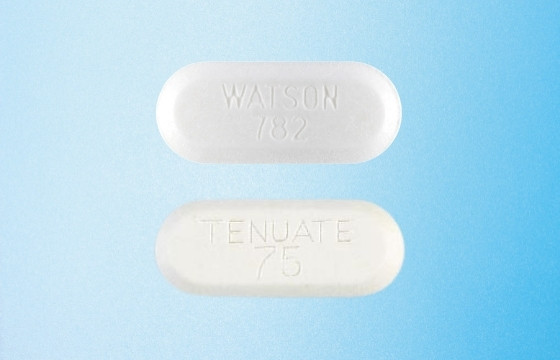 How does it work?
The active ingredient in Tenuate is diethylpropion. This drug acts on the central nervous system to boost metabolism by increasing blood pressure and heart rate. It is also considered an anorectic drug, helping to reduce the appetite and therefore aid weight loss. (2)
Tenuate 25mg should be taken three times daily one hour before meals, as its effect only lasts for a few hours. Sustained-release Tenuate 75mg releases diethylpropion more slowly into the body so that only one pill is needed each day.
How much weight can I lose?
In a clinical study, taking diethylpropion for 12 months, alongside a hypocaloric diet, led to clinically significant weight loss. Obese participants who took the drug lost an average of 9.8% of their baseline body weight. For those taking a placebo, the average weight reduction was only 3.7%. Furthermore, participants who took a placebo for six months but then switched to diethylpropion for the remainder of the study lost more weight during these second six months. (3)
Another study showed that participants taking diethylpropion lost an average of 11.6lbs in 12 weeks, although there was evidence that tolerance to the medication began between weeks 8 and 12. (4) Tenuate may therefore offer short-term weight loss success.
How should I take Tenuate?
For immediate release Tenuate, the dosage is 25mg taken three times daily one hour before food.
For sustained-release Tenuate Dospan, one 75mg tablet should be swallowed whole mid-morning.
For best results, you should also follow a mildly hypocaloric diet.
The medication is only approved by the FDA for use for 12 weeks. After this time, the risk of serious adverse events increases. (2)
Does Tenuate have side effects?

The most common side effects are a dry mouth, feeling restless or nervous, a tremor, difficulty sleeping, dizziness, tiredness, nausea, vomiting, and low mood.
Unfortunately, more serious adverse effects can occur when taking the medication. These include:
Pulmonary hypertension
Valvular heart disease.
If you are concerned about these complications, you must speak to your doctor for medical advice. (5)
What should I avoid when taking Tenuate?
Tenuate will not be the right drug for everyone. You should familiarize yourself with the contraindications and possible drug interactions before starting this weight management aid.
Precautions
Tenuate is unsuitable for adults with cardiovascular disease, high blood pressure, and heart rhythm abnormalities. Your doctor may also advise against this treatment if you have epilepsy. Diethylpropion should not be used if you have hyperthyroidism or glaucoma, and it is rarely advised for women who are pregnant or breastfeeding. (6), (2)
As diethylpropion can make you feel tired or dizzy, it may not suit you if you drive a vehicle or operate machinery. (2)
Drug interactions
Some medications can interact with Tenuate. Antidepressants including MAOI medications, phenothiazines, antidiabetic drugs, and antihypertensives can all interact with diethylpropion. Your doctor may therefore recommend a different drug.
Alcohol should be avoided when taking Tenuate. (2)
Should you try Tenuate?
The active ingredient in Tenuate, diethylpropion, has been shown to lead to greater weight reduction than diet and exercise alone. It is approved as a short-term treatment for obesity, but extended treatment is often not recommended due to the risk of adverse health outcomes.
Taking Tenuate may offer a good solution to start your journey towards a healthy weight, before continuing with a hypocaloric diet and exercise long-term.
You might be interested to learn more about the other weight management medications that are currently available. We further recommend reading our in-depth comparison of Tenuate vs phentermine.
FAQs
References
1. Rxlist.com (Tenuate).
2. US Food and Drug Administration (Tenuate).
3. Cercato C. et al. A randomized double-blind placebo-controlled study of the long-term efficacy and safety of diethylpropion in the treatment of obese subjects. International Journal of Obesity. 2009; 33: 857-865.
4. Murphy JE. et al. A Comparison of Mazindol (Teronac) with Diethylpropion in the Treatment of Exogenous Obesity. Journal of International Medical Research. 1975; 3 (3): 202-206.
5. Rxlist.com (Tenuate Warnings).
6. Rxlist.com (Tenuate Side Effects).
7. Centers for Disease Control and Prevention (Losing Weight).
8. Rxlist.com (Tenuate).
9. AmericanAddictionCenters.org (Anxiety and Amphetamines).
10. Stohs S. and Badmaev V. A Review of Natural Stimulant and Non-stimulant Thermogenic Agents. Phytotherapy Research. 2016; 30 (5): 732-740.
11. WebMD.com (Weight Loss Supplements).
12. MyAlli.com (Alli).
13. Lin WL et al. The urinary screening and identification of amphetamines in clinical toxicology laboratory. Zhonghua Yi Xue Za Zhi (Taipei). 1991 ;48 (4) :305-9. Chinese.
14. BlinkHealth.com (Generic Tenuate).
15. Drugs.com (Diethylpropion Prices).