As part of our series of articles on weight loss medications, we will look in more detail at the injectable prescription medicine Saxenda. This treatment has been shown to help overweight or obese adults and adolescents lose excess weight. Here we will explore the ingredients, safety, and efficacy of Saxenda so you can decide if it could be a good choice for you.
If you are considering both Saxenda and phentermine, please have a look at our detailed comparison article.
What is Saxenda?
Saxenda injection 3mg is a once-daily medication taken to aid weight loss. Adults with a body mass index (BMI) of over 30, or those with a BMI over 27 and a weight related medical disease, are eligible for this prescription medication. It is recommended that Saxenda be taken in conjunction with a reduced-calorie diet and regular exercise. (1)
The Saxenda generic ingredient is liraglutide, a substance that helps to regulate hunger and appetite which may lead to the consumption of fewer calories and therefore weight loss. (1)
Saxenda was approved for overweight and obese adults by the US Food and Drug Administration (FDA) in 2014. In 2020, the drug was approved for pediatric patients aged 12 and over with a BMI of 30 or more, and a weight of over 132 pounds (60kg). (2)
What does Saxenda look like?
The liraglutide contained within the Saxenda pen is a clear, colorless solution.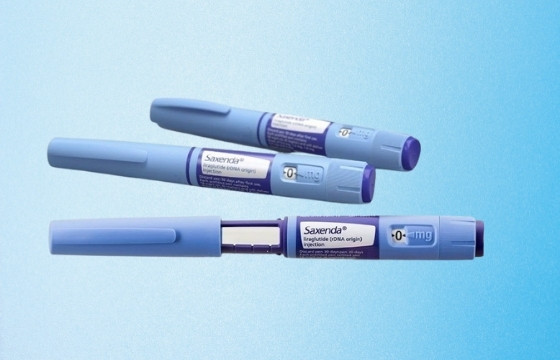 Each Saxenda pen is pre-filled with liraglutide solution. The pen is blue with a sticker indicating its contents. A dial within a window indicates how much liraglutide has been prepared for injection. The needle is safely contained within the pen lid.
How does it work?
Liraglutide works in a similar way to glucagon-like-peptide (GLP-1), a hormone naturally produced in the body that affects appetite and hunger. GLP-1 receptors are present in certain parts of the brain. When Saxenda is injected, liraglutide stimulates neurons in the brain to reduce the appetite, thereby helping you to decrease your calorie intake. In turn, you will lose weight. (3)
Even in short-term studies, taking liraglutide led to significant weight loss. (4)
How much weight can I lose?
In randomized, placebo-controlled studies, participants who started liraglutide and followed a hypocaloric diet with regular exercise lost 4 to 6kg (8.8 to 13.2 pounds). A greater proportion of patients lost 5 to 10% of their baseline weight compared to those given a placebo drug. Taking liraglutide was found to be not only beneficial for weight loss, but for maintaining the new, lower weight, too. (5)
Even in a short, 5-week study, a participant with a BMI of 40.4 lost 13.55% of his baseline weight when taking liraglutide. (4) A longer study lasting over a year showed that 33.1% of participants injecting liraglutide lost more than 10% of their initial body weight, compared to just 10.6% of those taking a placebo. (6)
There is therefore good evidence that Saxenda could be a helpful adjunct to a reduced-calorie diet and exercise.
How should I take Saxenda?
When you start taking Saxenda, you should follow the dosing schedule below. The schedule is designed to gradually increase your daily dose from 0.6mg to the full dose of 3mg while minimizing the risk of side effects.
| | |
| --- | --- |
| Week | Daily Dosage |
| Week 1 | 0.6mg |
| Week 2 | 1.2mg |
| Week 3 | 1.8mg |
| Week 4 | 2.4mg |
From week 5 onwards, the daily dose is 3.0mg.
You should inject the dose of Saxenda under the skin of your stomach, thigh, or upper arm. The medication must be injected into the subcutaneous tissue, not the muscle or a vein. Your doctor should show you how to perform the injection safely. (7)
Saxenda is considered a long-term treatment. After four months, you will need to consult your health care professional to review your progress and check that the drug remains suitable for you. (8)
Does Saxenda have side effects?
The most common side effects when taking Saxenda are nausea, diarrhea, constipation, vomiting, low blood sugar, headache, tiredness, dizziness, stomach pain, and a skin reaction at the injection site. A change in lipase levels may be noted on blood testing. (7)
In adolescents, the most common side effects are fever and gastroenteritis. (7)
Following the dosing schedule may help you to avoid mild side effects, but if you feel unwell you should speak to your doctor.
Unfortunately, more serious adverse events can occur when taking Saxenda. These include:
Pancreatitis
Gallbladder disease
Severely low blood sugar (especially in patients with diabetes)
Increased resting heart rate
Kidney failure
Depression or suicidal thoughts
Serious allergic reactions.
You must call your doctor straight away if you are worried about any of these complications.
What should I avoid when taking Saxenda?
Saxenda helps patients lose weight, however, it will not suit everyone. It is important to be aware of contraindications and possible interactions before starting this injectable prescription medicine.
Precautions
In rare cases, Saxenda has been associated with pancreatic and thyroid cancer. If you have a family history of these conditions, or Multiple Endocrine Neoplasia (MEN 2), you must not take Saxenda.
Saxenda is also contraindicated in patients who:
Have severe stomach disorders
Have pancreatic, liver, or kidney disease
Have a history of mental health disease including depression or suicidal thoughts
Already take a GLP-1 receptor agonist.
Saxenda is not suitable for women who are pregnant, trying to conceive, or breastfeeding. (7)
Drug interactions
If you take another prescribed, over the counter or herbal medication, you must tell your doctor before starting Saxenda. It is reported that interaction may occur between liraglutide and diabetes medicines, leading to hypoglycemia. Dose adjustment of anti-diabetes medications may therefore be required. (7)
Foods to avoid while on Saxenda
There are no specific foods to avoid when taking Saxenda, however, it is important to follow a low-calorie diet for best results.
Should you try Saxenda?
Saxenda has been found to aid weight loss when a reduced-calorie diet is also followed. However, it is important to consider the Saxenda pros and cons before requesting a prescription, as the side effects and precautions may mean it is contraindicated for some people.
Before deciding, you may find it helpful to learn about other weight loss medication options available on prescription. You can also read our in-depth comparison of Saxenda vs phentermine.
FAQs
References
1. Saxenda.com (Saxenda).
2. US Food and Drug Administration (Saxenda Approval).
3. Rxlist.com (Saxenda).
4. Almarshad F. Short-term monotherapy with Liraglutide for weight management: A case study. Journal of Family Medicine and Primary Care. 2019; 8 (5): 1804-1806.
5. Mehta A et al. Liraglutide for weight management: a critical review of the evidence. Obesity Science & Practice. 2017; 3 (1): 3-14.
6. Pi-Sunyer X et al. A Randomized, Controlled Trial of 3.0mg of Liraglutide in Weight Management. The New England Journal of Medicine. 2015; 373: 11-22.
7. Saxenda.com (Saxenda Dosing).
8. Saxenda.com (Saxenda FAQs).
9. PushHealth.com (Saxenda Prescription).
10. MedicalNewsToday.com (Victoza vs Saxenda).
11. Saxenda.co.uk (Saxenda Storage and Use).