Ionamin is a prescription-only weight loss medication that contains phentermine resin as its active ingredient. Phentermine suppresses appetite and boosts energy, while the resin creates a slow-release medication to prolong drug's effects. Ionamin is no longer sold in the US.
Purpose
Ionamin is a prescription weight loss drug for overweight and obese patients. It suppresses feelings of hunger by acting on parts of the central nervous system.
Who Can Take Ionamin?

This medication is prescribed for obese patients with an initial BMI (body mass index) of 30+, or those with a BMI of 27 or above if other risk factors are present (e.g., hypertension, diabetes, hyperlipidemia).
Ionamin is designed as a short-term treatment and should always be used as an adjunct to healthy lifestyle changes like portion control, regular physical activity and stress management.
Phentermine is not recommended for:
Children of 18 years or younger
The elderly
Is Ionamin a prescription or over the counter drug?
Phentermine, the active ingredient, has a chemical make up similar to that of amphetamine, which makes stimulant abuse a concern. Furthermore, these pills may be habit forming and should not but used for longer than a few weeks at a time.
Phentermine is a schedule IV controlled substance in the US and abroad so it is illegal to buy or sell Ionamin online or without a doctor's prescription.
Appearance
Ionamin capsules are available in two strengths: 15mg and 30mg.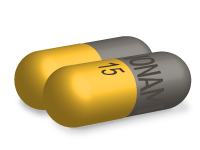 Ionamin 15mg: yellow/grey capsules imprinted with "IONAMIN 15." Supplied in bottles of 100's and 400's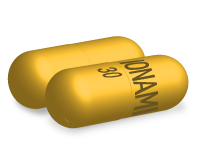 Ionamin 30 mg: yellow capsules, imprinted with "IONAMIN 30." Supplied in bottles of 100's and 400's
Specific Ingredients
15 mg Capsules
15 mg of phentermine
D&C Yellow No. 10
Dibasic calcium phosphate
FD&C Yellow No. 6
Gelatin
Iron oxides (15 mg capsules only)
Lactose
Magnesium stearate
Titanium dioxide
30 mg Capsules
30 mg of phentermine
D&C Yellow No. 10
Dibasic calcium phosphate
FD&C Yellow No. 6
Gelatin
Iron oxides (15 mg capsules only)
Lactose
Magnesium stearate
Titanium dioxide
Side Effects

Ionamin, like other brands of phentermine, can cause a wide variety of side effects.
Serious potential side effects include:
Difficulty in breathing
Lightheadedness
Weakness
Ankle and extremity swelling
Increase in blood pressure
Excessive fatigue
Euphoria, or other dramatic changes in mood
Common side effects of Ionamin include:
Headache
Dryness of the mouth
Unpleasant taste
Diarrhea
Constipation
Impotence
Changes in libido
Restlessness
Excess energy
Insomnia
Dysphoria ("phen rage")
Contact your prescribing doctor if any Ionamin side effect is bothersome, severe or not going away.
Dosage
Most patients take one capsule per day approximately 1-2 hours before or after their breakfast. Ionamin capsules should be swallowed whole and with plenty of water.
Do not take this medication late in the day because the phentermine increases energy levels and can cause insomnia.
Exact dosage varies from person to person. Your doctor will prescribe the proper dosage for you.
Never take Ionamin for longer or at a higher dosage than prescribed.
Overdose
Seek immediate medical attention if you or someone you know takes too much Ionamin.
A phentermine overdose can cause serious consequences, including death.
Common symptoms of overdosage include: unusually high energy levels, tremor, hyperreflexia, increased breathing rate, confusion, assaultiveness, hallucinations, panic, extreme tiredness, depression, arrhythmia, hypertension or hypotension, circulatory collapse, nausea and sickness, diarrhea, abdominal cramps.
Precautions

It's important that your prescribing doctor has a complete picture of your past and present health. For this reason, tell your doctor about:
Your complete medical history, especially if it includes high blood pressure, a heart condition, arteriosclerosis, overactive thyroid, diabetes, glaucoma or drug abuse
Any allergies that you may have, especially to if you have a known allergy to phentermine
Any medicines or supplements you have taken in the last two weeks (both prescription and over the counter)
All plans for conception, breastfeeding, etc. This medication is not appropriate if you are pregnant, nursing or trying to conceive. Tell your doctor right away if you become pregnant while undergoing treatment.
Any proclivity to agitated states
Read more about phentermine precautions & contraindications.

User Reviews
Wondering what real users thought of Ionamin? This brand of phentermine was unique because of it's extended-release formulation, but patients reported varying levels of effectiveness.
Ionamin has an average user rating of 4.2/5:
Who Makes Ionamin?
Ionamin was manufactured and distributed by:
Celltech Pharmaceuticals, Inc.
Rochester, NY 14623 USA