How to Get a Prescription for Phentermine
With more than 4 million prescriptions written in the United States each year, phentermine is an undeniably popular weight loss medication ( 1 ).
Below we explain how to get phentermine, including why you need a prescription, who can take this medication and how to get your doctor to prescribe phentermine.
Do You Need a Prescription for Phentermine?

Yes, you need a prescription for phentermine.
Phentermine hydrochloride (phentermine HCL) is the active ingredient in phentermine weight loss pills. It is a class IV controlled substance because of its serious side effects and addiction potential.
Due to its status as a controlled substance, sale, distribution and possession of this drug is tightly regulated by the DEA and international regulatory authorities ( 1 , 2 , 3 ).
Phentermine Prescription Guidelines
Phentermine is intended to help overweight and obese patients who have already tried losing weight with diet and exercise. More specifically, this medication is an option for people with a body mass index (BMI):
Greater than 30 kg/m2
Greater than 27 kg/m2 + one or more weight-related condition
Weight-related conditions that may qualify a lower-BMI patient for phentermine include: type 2 diabetes, high cholesterol (hyperlipidemia) and controlled high blood pressure (hypertension) ( 4 ).
However, phentermine is not appropriate or safe for everyone. It is contraindicated for patients with current or past: cardiovascular disease (heart problems), hyperthyroidism, glaucoma, agitated states, drug/alcohol abuse or reactions to sympathomimetic amines.
Phentermine also has many potential drug interactions (e.g. with MAOIs), so the prescribing doctor and pharmacist know about ALL other medications and supplements taken within the last two weeks.
Phentermine is pregnancy category X, so it should never be taken while pregnant or nursing ( 4 ).
Read more here: Phentermine Precautions
What Doctor Prescribes Phentermine?
A physician is the only person who can prescribe phentermine.
Start with your primary care doctor and schedule an appointment to discuss weight. He or she may prescribe the medication him/herself if you are an appropriate candidate, or he/she may choose to refer you to a specialist for further evaluation and follow-up.
Here are the results of a recent poll that asked current phentermine patients where they received their phentermine prescription ( 5 ):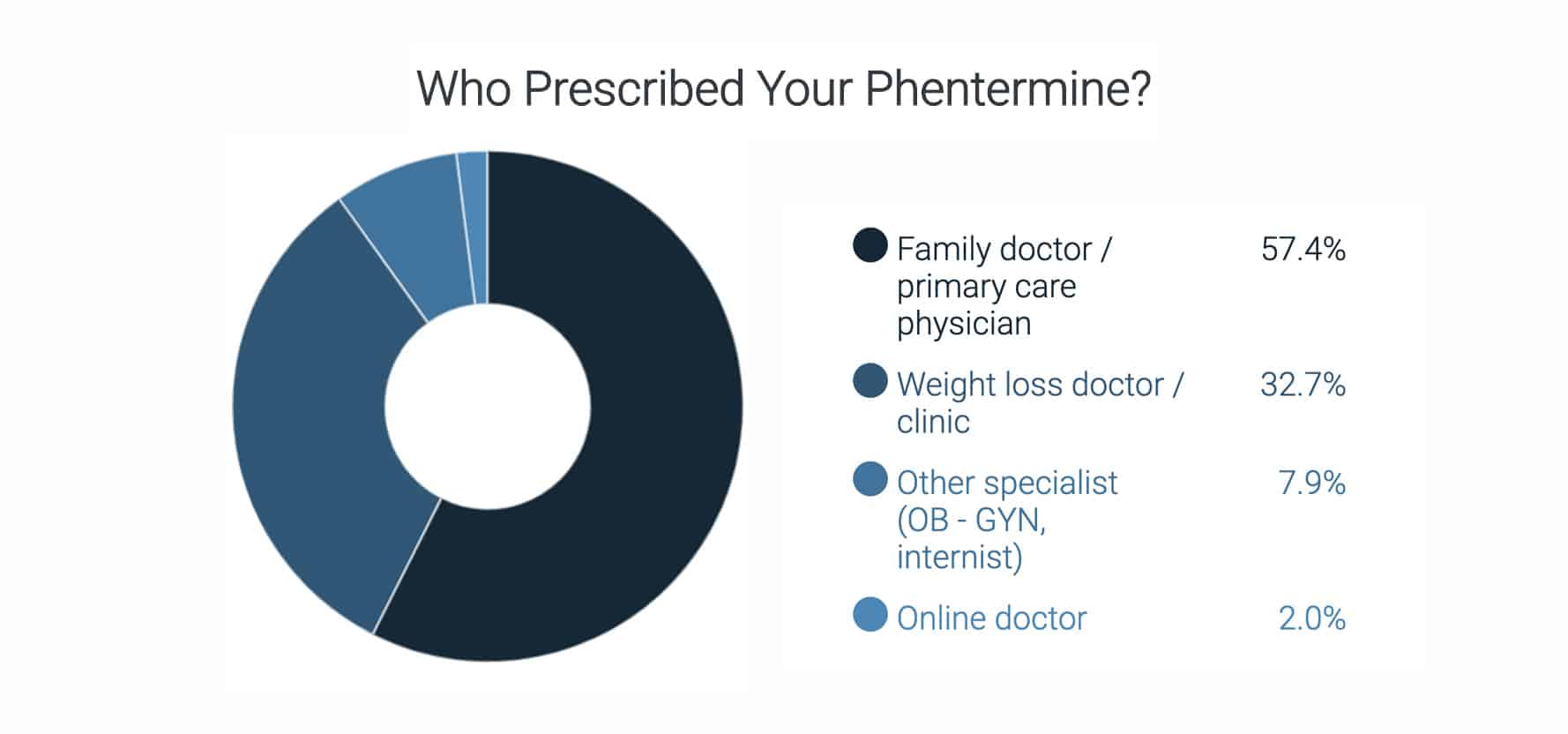 1. Family Doctors
Most people get their phentermine from a family or primary care doctor ( 5 ).
A doctor that sees you regularly is in a unique position to assess the pros and cons of a phentermine prescription because he/she is familiar with your medical history, as well as other medications, allergies and weight trends over time.
Before writing a phentermine prescription, he or she will evaluate your:
Weight status (BMI)
Previous attempts to lose weight
Vitals (heart rate, blood pressure, etc.)
Weight and medical history
Other medications & supplements
Overall health status
While any doctor can prescribe phentermine, not all doctors feel comfortable doing so. If you are a good candidate for the medication but your doctor does not prescribe phentermine, ask for a referral.
2. Specialists
If your primary care physician thinks you are a good candidate for phentermine but does not want to (or cannot) prescribe it, he or she may refer you to a specialist.
Bariatric doctors are doctors that specialize in weight management. A weight loss doctor will be more familiar with the research on phentermine for weight loss and, in many cases, more likely prescribe it.
Some people also receive a phentermine prescription from their gynecologist (OB-GYN). If obesity is impacting your fertility or reproductive health, or if you have a specific condition that affects weight (such as PCOS), your gynecologist may consider prescribing phentermine as a short-term weight management strategy.
3. Weight Loss Clinics
Consider a weight loss clinic if you:
Do not have health insurance
Do not have a primary care doctor
Cannot find a doctor in your network that prescribes phentermine
Clinics specializing in weight loss often employ bariatric specialists who have additional training in obesity management. As a result, they may be more open to the idea of prescribing phentermine.
However, weight loss clinics are not the perfect solution.
Many people live far away from their nearest weight loss clinic, which can make follow-ups complicated. Plus, the doctors are not familiar with your overall health status, instead relying entirely on self-reported information, which is often incomplete or inaccurate. These are both major barriers to optimal medical care.
Some weight loss clinics also insist that patients take additional supplements, such as vitamin B12 shots and 5-HTP, to boost phentermine despite the supplement's unproven effectiveness.
Between the consultation, labs, prescription and supplements (if applicable), weight loss clinics are also an expensive option. Before you schedule your first appointment, do some research to find out how much the whole process costs and if you can use outside coupons like prescription discount cards.
Read more here: How much does phentermine cost?

4. Online Doctors Who Prescribe Phentermine
The final option is online doctors who prescribe phentermine. They are usually real doctors who prescribe real phentermine without the now-mandatory face-to-face consultation.
Despite the initial draw of saving time and money by completing your consultation online and receiving weight loss pills in the mail, using these online phentermine doctors is not safe. It is impossible for them to complete the necessary physical evaluation (and follow-up) that is required to ensure that phentermine will not cause you undue harm.
More, these sites also operate pharmacies that are not VIPPS-accredited, so you may also be putting your personal information and or money at-risk ( 6 ).