Xenical: prescription drug with 120mg of Orlistat
Xenical is a prescription-only medication that may help you to lose more weight than dieting alone. In our series of articles on weight loss drugs, we will explore Xenical in more detail to help you decide if it could be the right choice for you.
If you are considering both Xenical and phentermine, please have a look at our detailed comparison article.
What is Xenical?
Xenical is a prescription medication that was approved by the US Food and Drug Administration (FDA) in 1999. Each capsule contains 120mg of orlistat, an ingredient that blocks the absorption of fat to aid weight loss. At the lower dose of 60mg, orlistat has also been approved as an over-the-counter drug under the brand name Alli. (1)
Xenical should only be prescribed for adults and adolescents aged 12 or over. It is indicated for treating those with a body mass index (BMI) of 30 or higher, or 27 or higher if weight-related complications such as high cholesterol or hypertension are also present. In some cases, the drug is prescribed to prevent weight regain after weight loss. (2)
Xenical is manufactured by Roche Pharmaceuticals, headquartered in Basel, Switzerland. (3)
What does Xenical look like?
Xenical is a hard, turquoise capsule. Roche Xenical 120 is imprinted on each capsule in black lettering.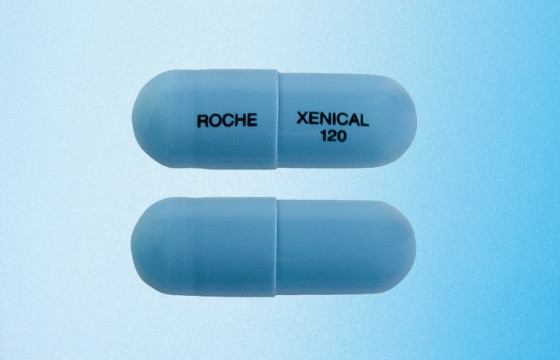 How does it work?
Lipids (a type of fat) are normally broken down by lipase and absorbed into the body from the gut. Lipids are energy-dense and so eating a fatty diet can quickly lead to weight gain. Orlistat is a lipase inhibitor that works by reducing the amount of lipid absorbed from the digestive system.
Of the fat you eat when taking Xenical, around 30% will not be absorbed and instead passes through the digestive system to be excreted in the feces. This leads to a caloric deficit so that even when fat is consumed, weight loss may occur. However, to maximize weight loss and minimize bowel-related side effects such as greasy stools, it is important to reduce the amount of fat eaten overall. (4), (5)
How much weight can I lose?
In a study of 80 patients with a BMI of more than 30, patients who took orlistat 120mg three times daily lost significantly more weight than those taking a placebo. In the 24 week study, the average weight loss in the orlistat group was 4.65kg, whereas the placebo group lost around 2.5kg. The group taking orlistat also saw greater reductions in BMI, waist circumference, and cholesterol levels. (4)
In another study that lasted four years, taking 120mg orlistat three times daily was found to reduce the risk of type 2 diabetes occurring in obese subjects. In addition to weight loss, orlistat, therefore, offers other health benefits. (6)
How should I take Xenical?
One Xenical capsule should be taken three times daily within an hour of eating each main meal. If you miss a meal or the meal does not contain fat, the capsule should be omitted. For the greatest weight loss outcome, it is best to take Xenical in conjunction with regular exercise and a hypocaloric diet that contains less than 30% fat.
Many people remain on this treatment for two or more years. A long-term prescription may be considered necessary to prevent weight regain after loss. (2)
Does Xenical have side effects?

Side effects are most likely to occur in the first few weeks or months of taking Xenical, with digestive disorders being commonly described. In most cases, any unwanted bowel symptoms stop within four weeks. Side effects include oily spotting of stool in the underwear, flatus with oily discharge, fecal urgency, passing oily or fatty stools, and urgency or frequency of defecation.
Patients are strongly advised to take a multi-vitamin tablet when taking Xenical, as the absorption of fat-soluble vitamins is reduced in the presence of orlistat. (7)
What should I avoid when taking Xenical?
Before starting any medication, it is important to be aware of the precautions and potential interactions.
Precautions
Eating a high-fat diet will not only hinder weight loss but will likely lead to digestive side effects when taking Xenical. It is advised that patients eat a hypocaloric diet with less than 30% of the total calories coming from fat.
Xenical is contraindicated for people who:
Are pregnant
Have cholestasis (disrupted flow of bile acids)
Have chronic malabsorption syndrome
Have severe liver or kidney disease
Have a known allergy to orlistat or any other ingredient in Xenical.
In rare cases, Xenical has been associated with severe liver injury and changes in kidney function. (7)
Drug interactions
You must make your doctor aware of any prescribed or over-the-counter medications you take. Cyclosporine, levothyroxine, warfarin, antiepileptic drugs, amiodarone, and antiretroviral medications can all interact with Xenical. (7)
Should you try Xenical?
Significant weight loss can be achieved when Xenical is taken with a low fat, reduced-calorie diet. The digestive side effects can be unpleasant, but they are likely to settle within a few weeks. If you are committed to eating healthily and taking medication long-term, Xenical could be the right choice for you.
Before making a decision, you may find it helpful to learn more about the other obesity management drugs available on prescription and over the counter. You can also read our in-depth comparison of Xenical vs phentermine.
FAQs
References
1. US Food and Drug Administration (Orlistat Approval).
2. Rxlist.com (Xenical).
3. US Food and Drug Administration (Xenical).
4. Jain SS et al. Evaluation of efficacy and safety of orlistat in obese patients. Indian Journal of Endocrinology and Metabolism. 2011; 15 (2): 99-104.
5. ScienceDirect.com (Orlistat).
6. Torgerson JS et al. XENical in the Prevention of Diabetes in Obese Subjects (XENDOS) Study. Diabetes Care. 2004; 27 (1): 155-161.
7. Xenical.com (Xenical).
8. Pharmica.co.uk (Xenical vs Alli).
9. PushHealth.com (Orlistat Prescription).
10. AffordableRxMeds.com (Orlistat).