Can You Take Phentermine Long Term?
While phentermine is very useful and effective in helping you to lose weight, it is important to remember that taking phentermine long term is not recommended, and that phentermine has always been intended for short-term use only. This is because of the ways in which phentermine affects your heart and can cause serious side effects, plus it can be addictive and becomes less effective over time as your body becomes accustomed to its effects. Here we explain more about why phentermine is only recommended for limited periods of time, the potential risks of taking phentermine long term, and how you can maintain weight loss without taking phentermine long term.
Why Phentermine Is Recommended For Short-Term Use
Phentermine has been available on prescription since the 1970s for the short term management of obesity after first receiving FDA approval in 1959. It is recommended that phentermine only be prescribed short-term, typically interpreted as up to 12 weeks. There are two reasons why phentermine is only prescribed for a short period of time:
How Phentermine Effects The Body
The first reason is because of the effects phentermine has on the body. Phentermine is classified as a controlled substance, recognized as having a structure similar to amphetamine. Like amphetamine, phentermine acts on the central nervous system to stimulate neurotransmitters in the brain, including dopamine, epinephrine (adrenaline) and nor-epinephrine (nor-adrenaline). This causes phentermine to increase energy levels, suppress appetite and minimize cravings, making it an effective weight loss medication which helps you to lose weight quickly.
However, for many patients taking phentermine, the initial effects can be quite aggressive, including feeling 'wired' and unable to sleep, with little to no appetite and a variety of side effects, such as dry mouth, anxiety, depression, nausea, and mood swings. Over time these side effects reduce, but so do the effects of appetite suppression and energy boosting. This is because the sustained used of many drugs causes adaptation within the body that tend to lessen the drug's original effects over time, known as drug tolerance. Many phentermine users experience a reduction in effectiveness of the medication over time, which indicates that tolerance is occurring within the body, until eventually patients experience fewer and fewer of the desired effects, with even the maximum dosage of 37.5mg providing very little appetite suppression or extra energy. This is why it is crucial to take a break from phentermine, and then only take it for a further period if it is deemed necessary by your doctor. It is not uncommon for patients to take phentermine more than once, however, it is not advisable for patients to take phentermine for several years; having to take phentermine many times would indicate that it is not effectively helping the patient to achieve long term weight loss, and so alternative treatment should be considered, such as counselling or more personalized dietary and lifestyle advice.
As a stimulant, phentermine also causes the heart to work faster as a means to enable the body to work more efficiently at processing food into energy. Over time this can put stress on the heart, which can in turn result in symptoms such as chest pains and an increase in blood pressure, among other heart-related side effects. Therefore, due to an increased risk of harm to the body coupled with a reduction in effectiveness, taking phentermine long term is not worth the risk to the patient.
The Limitations Of Phentermine Research & Development
The second reason that phentermine is only recommended for short-term use is that the drug was never systematically tested for long-term use, and therefore cannot be considered safe when taken for longer periods of time. In the research and development stage, including clinical trials where patients took phentermine and were observed for weight loss and side effects, phentermine was only ever tested for short periods of time. Therefore, the recommendation for it to be taken for up to 12 weeks is based on the length of time that phentermine was taken for by participants in these clinical trials.  Because phentermine was first tested in the 1950s, it was not subjected to the rigorous testing methods that the FDA now impose, as shown by the extensive year-long trials into Contrave, the latest weight loss drug to be approved by the FDA. Therefore, when considering the possible effects of taking phentermine long term, we have to rely on anecdotal reports from individuals, and by inferring results from the long-term effects of taking drugs with similar substances to phentermine, such as amphetamines.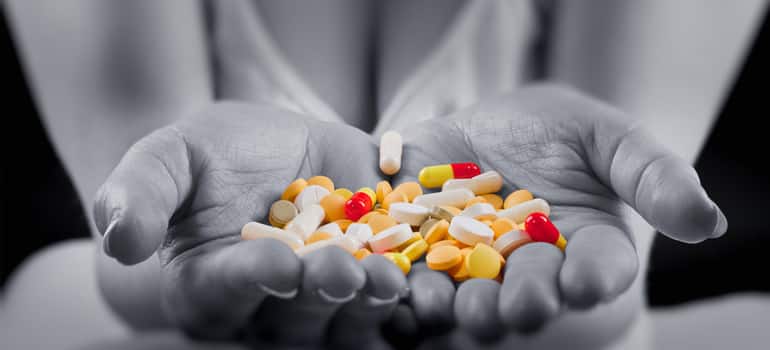 The Risks Of Taking Phentermine Long Term
As we have explained, phentermine is not intended for long term use, but despite this, there are still many posts in our Facebook support group from members who have taken phentermine for several years. Conversations about taking phentermine for extended periods include reports of migraines, heart problems, high blood pressure. In particular, one user is still taking phentermine after nearly 7 years, despite having a BMI of 22, and who is now experiencing eyesight problems as a result. The fact that this user is a healthy weight would indicate that this member has developed a dependence or possibly an addiction to phentermine, whereby she no longer needs to lose weight but is still taking phentermine after years, and now her health is suffering. Other conversations that discuss addiction to phentermine include people talking about how they continue to take phentermine despite no longer needing to lose weight, or due to becoming dependent on it, begin to take more and more each day to get the same effects. Phentermine has a limited period of efficacy due to its amphetamine-like structure and addicting effects, so taking it long term gives you fewer and fewer of the desired effects of appetite suppression and additional energy, and more chance of dependence and suffering from dangerous side effects.
Other threads indicate that users doubt the addicting effects of phentermine or consider that it wouldn't happen to them, and while individual differences mean that not everyone would experience severe side effects or dependence on phentermine, it is undeniable that phentermine is an addictive medication, shown by the withdrawal symptoms that many experience once they stop taking phentermine. For this reason, it is important to always follow the instructions of your doctor, so if you find that your phentermine prescription does not produce the same effects, you should not increase your dosage in an attempt to manage your increase in tolerance. Doing this will only lead to a greater dependency and therefore a greater chance of withdrawal symptoms once your prescription ends. This adaptation and tolerance to phentermine is the core reason for withdrawal symptoms, as strong medication can be highly reactive and addictive to the body. Furthermore, it is important to remember that as phentermine is similar in structure to amphetamine, we cannot be sure that long term usage doesn't harm the body in some of the ways that amphetamine does when taken long term. Since no medical trials have extensively tested the effects of taking phentermine long term, we would have to base our knowledge on the long term usage of other amphetamine-like substances, which would therefore indicate that heart damage might occur, in addition to psychological damage, or other unpredictable reactions.
Long Term Weight Loss Without Taking Phentermine Long Term
Phentermine is not a miracle pill, but rather a tool kick start to your weight loss journey, and should be used only as a means to establish a routine of healthy eating habits and exercise to continue for life. If phentermine is taken without any effort to change the lifestyle in other ways, then it is to be expected that weight gain will occur once the phentermine prescription finishes. But weight gain following the cessation of phentermine is no reason to take phentermine long term, as this will just delay the inevitable, in addition to putting your health at risk.
To avoid the possibility of dependence, while still taking phentermine, you should build yourself up to face the end of your prescription by using phentermine as a tool to help you achieve a maintainable healthy lifestyle. As part of the best phentermine weight loss schedule, as well as eating healthily and exercising, it is important to establish a good sleeping routine and to take time to de-stress and look after your own well-being and emotional needs in order to create a balanced routine whereby you can continue to lose weight or maintain your goal weight without phentermine. A great way to continue this balanced routine is to use a weight loss supplement such as Phen Caps to manage the end of your phentermine prescription. Like phentermine, Phen Caps suppress appetite, reduce cravings, and increase energy but they have no side effects and can be taken for as long as you need to achieve long term weight loss.
Have you been taking phentermine long term? If so we'd love to hear from you if you have any feedback or questions, so please comment below!