Healthy Breakfast Ideas To Eat On Phentermine
It's important to start your day right when you're losing weight with phentermine. And that means a nutritious breakfast to help fill you up and give you an energy boost. But it can get boring always having the same breakfast, so here we have some great breakfast ideas for you. Whether you're in a rush, feel like something warming, or need something to power your morning workout, look no further for breakfast inspiration!
Warming Breakfast Ideas
As we head into the colder weather, a warming breakfast is just what you need to ease you into the day. Here are our two favorite breakfast ideas for when you need something warm inside you:
Raspberry Choc Oatmeal
If you're not convinced about oatmeal then this delicious combination is sure to change your mind! Put around half a cup of frozen raspberries in a bowl and defrost them in the microwave for 1-2 minutes. Measure out a serving of fat-burning oats (around 40 g/1.4 oz) and pour them into a plastic bowl. Add around a cup of nonfat milk and then put this mix in the microwave for 2-3 minutes. When it's the consistency you like, spoon the oatmeal over the raspberries. Put a dollop of low-sugar reduced-fat chocolate hazelnut spread in the middle of the oatmeal and enjoy! The combination of filling fiber, protein, and whole grains will keep you full for hours.
Banana Peanut Bread Pudding
For when you have the time to make breakfast the night before, how about a warming dessert-style breakfast? To make this dish, cut up four slices of whole grain bread into 1 inch squares and set aside. In a large shallow dish, whisk 2 eggs, a teaspoon of vanilla, a pinch of salt, and 1/3 cup of nonfat milk. Heat 1/4 cup of peanut butter in the microwave for about 20 seconds, until it is more liquid. Stir the peanut butter into the egg mixture until it's as even as possible. Stir the squares of bread into the peanut mix and make sure all the pieces are evenly coated. Take two overripe bananas, slice them and stir them gently into the mixture. Lightly grease four ramekins then divide the mixture evenly between them. Cover in plastic wrap and refrigerate overnight to allow the flavors to settle. When you're ready for your breakfast the following day, preheat the oven to 400°F and bake for about 20 minutes then serve. The best bit is, although this feels indulgent, it's actually full of fiber, healthy fats, and nutrients.
Pre-Workout Breakfast Ideas
The morning is often said to be the best time to work out. This is because it gets your system up and running first thing and helps the body burn calories all throughout the day. But, it's important to fuel your workout with the right food. With that in mind, these pre-workout breakfast ideas are perfect before exercise:
Fruit Parfait
Fruit is the ideal food before a workout as it contains fast-release carbohydrates but is still full of nutrients and fiber. Chop up a few of your favorite soft fruits, such as bananas, kiwis, berries, mango and melon and place in a bowl. Top the fruit with a sprinkle of your choice of cereal, such as muesli, granola or oats. The cereal contains slow-release carbs which will hit in towards the end of your workout when you most need the energy. Cereals that have been fortified with B vitamins are especially good as these vitamins help to convert the carbs in the fruit into energy for your workout. But, watch the sugar content of the cereal you're using. Top with low fat unsweetened Greek yogurt to provide muscle-strengthening protein for after your workout.
Cinnamon Banana Toast
While the whole grain toast offers slow-release energy, bananas give a quick energy boost – perfect when you're fueling up pre-workout. However, the high sugar content in bananas can leave you sluggish later. So, it's important to pair them with cinnamon to control that blood-sugar surge. If you're not a fan of cinnamon then healthy fats like nuts and seeds also stop the sugar spike. You could try topping your whole grain toast with peanut or almond butter before adding the sliced banana, or sprinkle the banana with chia seeds or chopped nuts.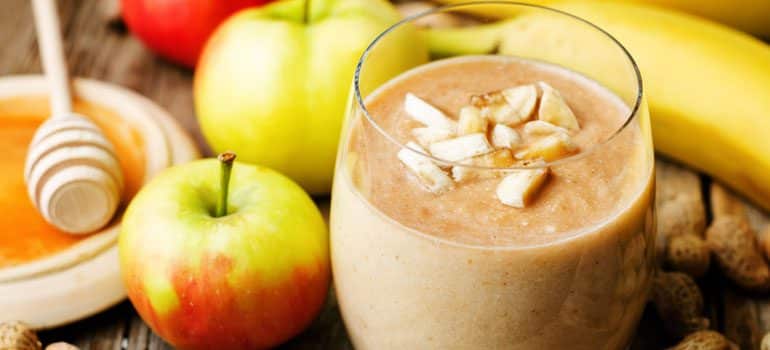 Quick Breakfast Ideas
Few of us have time to spare in the morning so these quick breakfast ideas are perfect to whip up in under 5 minutes:
Peanut Butter, Banana & Apple Smoothie
This recipe couldn't be easier! Plus, it combines healthy fats, fiber and plenty of nutrients. Blend a frozen banana, a sliced apple and two tablespoons of peanut butter. If you want it colder, add some ice cubes, and if your blender has trouble with the consistency, add some nonfat milk or unsweetened almond milk to make it easier to blend. When it's nice and smooth, serve and enjoy! And, if you have any left over, this is perfect for an even speedier breakfast the following day.
Berry Smoothie Bowl
Beautifully presented acai bowls and smoothie bowls are all over Instagram but they're actually really easy to make at home. For the base, blend a cup of frozen mixed berries with a splash of nonfat milk, remembering to aim for a thicker consistency than you would have in a drinking smoothie. Pour the smoothie mix into a shallow bowl and top with a mix of fruit, nuts and seeds. We like to add a little crunch with chia seeds, flax seeds, granola, coconut flakes, almonds, walnuts or hazelnuts, and sliced fruit such as apple, banana, strawberries, or kiwi.
Leisurely Breakfast Ideas
These leisurely breakfast ideas are perfect for lazy weekend mornings when you have more time:
Poached Eggs On Avocado Toast
This modern classic actually doesn't take too long, but poaching eggs can be tricky so it's best to leave it for when you're not in a rush. Mash half an avocado with salt and pepper then spread the mixture generously over whole grain toast. It's best to poach eggs separately so be sure to cook them one at a time. Boil a pan of water until it is bubbling with the temperature at the maximum. Stir the water to create a whirlpool then crack an egg into the center of the water. When the water starts to turn white and comes to the surface, turn the temperature down and leave the egg for a few seconds, then remove the egg from the water with a slotted spoon, pat on a paper towel then place it on top of the toast. Repeat the process to poach more eggs.
Vegetable Frittata
A frittata is great at any time of the day, but it makes a nice breakfast to share with friends or family at the weekend. Take six eggs and whisk with a pinch of salt and a little pepper. Take a large non-stick frying pan and add a tablespoon of olive oil to heat your other ingredients. You can add whatever veggies you like, but spinach, mushroom and tomato together make a great breakfast option. When the veggies are done, pour the egg mixture over the veg and cook for 3 minutes, making sure to regularly lift the mixture at the sides to ensure that the egg is well distributed. Once lightly brown, move the pan to the oven at 450°F for the eggs to set, which should take around 7 minutes.
—-
What are your favorite breakfast ideas? Let us know by commenting below!