How To Lose 100 lbs Or More On Phentermine
If your goal is to lose 100 lbs or more with phentermine, you may feel like a lot of the usual weight loss advice doesn't apply to you. When you're classed as morbidly obese, there are many more physical and mental challenges involved in losing weight. But, you're certainly not alone; many phentermine users are prescribed phentermine specifically because they have a significant amount of weight to lose. So, if your goal is to lose 100 lbs or more with phentermine, here we have ten tips to help you get the results you want!
How To Lose 100 lbs Or More With Phentermine
Thanks to the way phentermine suppresses appetite and gives patients a boost of energy, it is often ideally suited to obese patients who have tried and failed to lose weight alone. However, if you have a significant amount of weight to lose, there are certain recommendations to take into account before starting your weight loss journey to lose 100 lbs or more.
1. Seek Supervision
The more overweight you are, the more likely you are to need medical supervision, especially at the start of your weight loss journey. Since obesity contributes to other health problems, such as high blood pressure, high cholesterol and diabetes, medical care is essential as you embark on your weight loss journey. In fact, uncovering these health issues and getting treatment can also help you to lose weight; when issues such as insulin resistance, sleep apnea, and thyroid problems are treated, weight loss often becomes easier. So, as well as consulting your doctor about the possibility of getting phentermine, you should also be checked for other medical issues and seek advice about diet, activity levels, and possibly emotional support or counselling too.
2. Get Inspired
It's easy to feel overwhelmed when you have the challenge to lose 100 lbs or more ahead of you. But, a look at our success stories page shows how Nikkia, Barbara, and Michel all lost over 100 lbs thanks to phentermine's effects. There are also many inspiring stories online, like these from women who have dropped over 100 lbs each with diet and exercise. Stories such as these can motivate you and show you how it can be done, even if it feels like you have an impossible challenge ahead of you. Even with phentermine's help, it won't be easy to lose 100 lbs or more. But it will definitely be worth it.
3. Find A Fan Club
As well as inspiration, it's important to find support on your weight loss journey. Support from weight loss groups such as Weight Watchers can help you lose more weight than going it alone. You'll benefit from perspective, encouragement and helpful advice – all perfect for getting you motivated. Weight loss clinics often have notice boards advertising local weight loss groups, or your doctor may be able to direct you to a group in your area. If you're self-conscious about meeting up with strangers then there are lots of opportunities to connect with others online. Sharing your experiences, asking others for advice and receiving positive encouragement and understanding can really help you cope with the challenges involved with losing 100 lbs or more. Check out our support group on Facebook start connecting with other phentermine uses now.
4. Don't Cut Calories Too Much
A 1,200-calorie diet might be ideal for someone who wants to lose 20 lbs. But if you're 100 lbs overweight then you need a lot more calories than this each day just to sustain yourself. The more you weigh, the more your body needs to perform necessary functions and provide you with enough energy to survive. Although phentermine will suppress your appetite you should not use this as a reason to starve yourself in a bid to lose weight. Not only will this put your health at risk, you will struggle to lose weight as your metabolism will slow down even more.  Cutting your current calorie intake by as little as 500 calories per day can help you lose at least a pound a week. So, try to cut your calorie intake by 500-1000 calories a day and adjust it as you start to lose.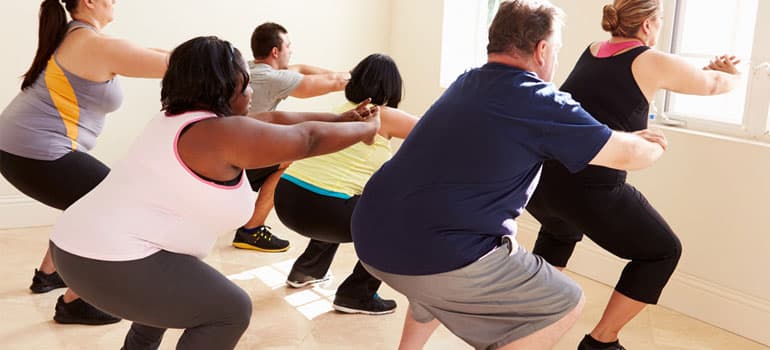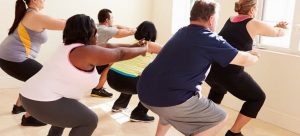 5. Start Moving
When you are significantly overweight, moving your body can be both physically and emotionally challenging as you are reminded of your size and immobility. Joining the gym or even going for a walk may not be possible for those aiming to lose 100 lbs or more. However, you should try to incorporate movement into your life in small ways. Make a point of bending down to pick things up, avoid using the remote to change channels, or use the bathroom on another floor at work. Small movements burn calories but more importantly, they will change the way you see movement in your life.
A great way to reconnect with your body is to try physical therapy. Physical therapists are trained to help people who have medical issues and trouble moving. Your therapist will design a program tailored to your needs to improve balance, strength and your range of motion. Physical therapy can also help to ease the joint pain you may have due to the pressure on your body from excess weight.
6. Set Realistic Goals
When embarking on a weight loss journey, especially when you want to lose 100lbs or more, it's important not to set the bar too high. You shouldn't be too hard on yourself or expect overnight changes; consider how long it has taken you to reach your weight, and how long you've been overweight. Concentrate on your health and focus on reaching smaller goals relating to the things you will be able to achieve rather than solely on pounds lost. Reflect weekly on changes to your breathing, mobility, and just how you feel inside. It will take a long time for you to reach your goals, but it will be all the more rewarding when you get there.
7. Get In The Pool
Swimming is ideal for those carrying a lot of extra weight. This is because the water supports you and takes the pressure off your joints. As a non-impact workout with a great calorie burn, it combines cardio and muscle-building all in one go. If exercise is difficult, just try moving a little in chest-deep water to help reduce swelling, improve circulation and relieve pain from inflammation.
8. Ditch The Diet Mentality
The whole idea of going 'on a diet' indicates that we will 'go off' the diet in the future. You have to change this kind of diet mentality; you've reached the weight you're at because the way you were eating was making you gain weight. There's no going back to that unless you want to undo all your hard work. When you have 100 lbs or more to lose, weight control must become a lifetime commitment. This often involves changing your relationship with food and learning ways to stop emotional eating. It's also important to incorporate regular exercise into your life.
9. Add A Supplement
The pattern of losing weight quickly at first and then stalling is experienced by a lot of people taking phentermine. However, it's something that almost all dieters experience; it's thought to be because once you've shed 5-10% of your weight, your body tries to resist losing any more. This is because satiety signals don't reach your brain, and you can be fooled into thinking you're still hungry. Medications like phentermine replicate that full feeling. But, if you feel that phentermine has stopped working as well as it did at the start, then combining your phentermine prescription with Phen Caps can help to give you a boost to see you through this plateau.
10. Work To Maintain Your Muscles
You may not realize it, but you're likely to have worked up strong muscles by moving your excess weight around. As well as losing fat, you need to work the muscles you've built up as they burn fat and calories. And, many weight lifting exercises can be done sitting down, making them ideal for those with a lot to lose. To begin, try sitting down and lifting some soup cans or bottles of water to work your biceps. If you can, also lift them above your head to build up strength in your shoulders. Once you gain more mobility, put on ankle weights and move your feet back and forth to strengthen your legs. Then work up to wall squats with the help of an exercise ball for good posture and body alignment.
—-
Are you looking to lose 100lbs or more on phentermine? Let us know by commenting below!