7 Easy Meals to Eat While Taking Phentermine
Guides to healthy eating often explain how eating five or six small meals throughout the day is the best way to manage hunger levels and sustain a steady metabolism. For those taking phentermine, regular smaller meals can really help enhance the appetite-suppressing effects of the medication, plus a regular supply of food every few hours means fewer drops and spikes in blood sugar levels, adding a steady supply of energy to the energy boost you get from phentermine. More importantly, smaller healthy meals help weight loss. With a constant metabolism and balanced blood sugar levels, your body will work more efficiently to break down food into energy, rather than storing it as fat, you'll feel more motivated to exercise, and your concentration levels will be heightened, with more focus on your goals and a greater sense of motivation. Here, we present seven great ideas for what to eat while taking phentermine, some smaller balanced meals that will help fuel your weight loss journey with phentermine.
Planning Out Meals
You need to be organized to eat several smaller meals each day, so it's important to plan ahead with respect to when and how much you're going to eat throughout the day. Without some forward-thinking, you could fall into the trap of all-day snacking and wind up eating more than you planned. If you have a calorie-limit, then aim to divide that up fairly equally between your meals and space out the meals as evenly as possible so avoid long gaps between them, while also making sure you give yourself time to concentrate on eating and not feel that you have to eat in a rush due to your work schedule. Certainly, eating more often can take some juggling, but the effects are more than worth it!
Meal Ideas
Here are some great meal ideas to get you started, and once you get the hang of it, planning out these mini-meals will be so easy, you'll wonder why you always stuck to the three square meals a day!
1. Chicken Burrito Bowl
The tasty salad is just 210 calories and provides 22g of protein, essential for building muscle, which is key while you're on your weight loss journey with phentermine, in order to maintain a healthy body in the long term. Grill a 2oz chicken breast and slice, adding it to a big bowl containing lettuce, an ounce of avocado, a drizzle of corn salsa, and quarter of a cup of black beans.
2. Berry Blast Smoothie 
Berries make great smoothies, as they're the easiest fruits to find frozen. To make this smoothie, mix 1 cup of frozen berries, half a cup of water, quarter of a cup of low fat plain yogurt, a teaspoon of honey and a tablespoon of unsweetened soy protein powder. This gives you 9 grams of protein and 4 grams of fiber, filling you up and giving you lots of slow-released energy, antioxidants, and essential nutrients, all for just 140 calories.
3. Tomato, Spinach and Goat's Cheese Omelet
This tasty meal totals 250 calories and packs 19g of protein. Simply beat 2 large eggs then add half a cup of spinach, fry using a dash of olive oil and then add an ounce of goat's cheese and half a tomato, chopped, to the center. Fold and serve.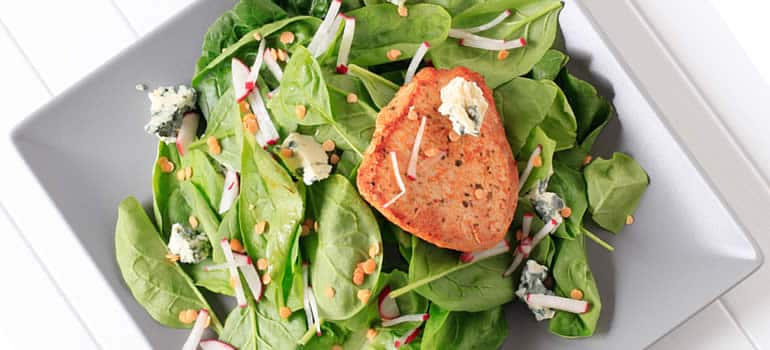 4. Chicken, Spinach and Goat's Cheese Salad
This great-tasting salad gives you 24g of protein and 215 calories in total. Simply grill or steam a 2oz chicken breast then glaze with honey mustard and serve with a salad of spinach, mixed leaves and an ounce of goat's cheese crumbled over the top.
5. Greek Yogurt, Banana and All Bran
Greek yogurt is deliciously creamy and great for a boost of protein, while the fiber in the banana and All Bran will keep you feeling full. Simply add a cup of all bran and a sliced banana to a plain Greek yogurt for a tasty energy-boosting snack with 240 calories and 20g of protein.
6. Tuna Salad with Hummus and Honey Mustard
This fresh salad comes in at 230 calories and totals 30g of protein, while also providing healthy fats, fiber and two servings of vegetables. Simply wash and tear your choice of lettuce or mixed leaves for the bed, add a cup of chopped celery, plus some extra veg if you want, a serving of honey mustard for dressing and then mix the tuna and hummus to top the salad.
7. Apple, Peanut Butter and Milk
This mini-meal comes in at 235 calories and provides 15g of protein, healthy fats in the peanut butter, and calcium with the milk, which helps to break down body fat. Stick to a tablespoon of peanut butter, as it's quite high in calories, and use this for eating with your apple, while washing the meal down with half a glass of skimmed milk. This combination of healthy fats, fiber and protein is a great way to boost energy levels and keep away hunger for longer, making your phentermine work even better for you.
These delicious examples are just some of the ways you can combine healthy, nutritious food to make a great-tasting and filling meal, and all within your calorie limit. And the best part is, you get to eat these types of meals five or six times a day! So what are you waiting for? Switch to mini-meals and see how much better you can manage hunger and energy levels while you're taking phentermine, plus this is a great way to ensure weight maintenance in the future, so it's a healthy habit that's really worth taking up!
Do you eat little and often as a way to lose weight with phentermine or Phen Caps? If so, we'd love to hear from you if you have any feedback or recipe ideas for our readers, please comment below!