Healthy Sweet Treats To Eat On Phentermine
If you're one of those people who needs something sweet after dinner (guilty!), it can be hard finding something diet-friendly.  But successfully losing weight with phentermine isn't about total denial, it's about finding healthier ways to enjoy foods you love. Of course, anything that really satisfies your sweet tooth isn't going to be super healthy. But, here we've put together some lower-sugar options which also provide some health benefits. So, whether it's a vitamin boost or some fiber or protein, these sweet treats all give some pay off too!
1. Fruit Popsicle
Perfect for when the hot weather hits, and with no added sugar at all! Simply puree watermelon chunks and some lime juice and freeze in a popsicle tray for a few hours. Other soft fruit works well too; try peaches or pineapple with lime juice, or berries with some pineapple juice.
2. Chocolate Strawberries
Somehow more indulgent than just chocolate, fresh strawberries dipped in some 85% cocoa chocolate are a luxurious treat. And, thanks to the antioxidants and vitamins that both strawberries and chocolate provide, it has plenty of health benefits too! Just melt the chocolate in a bowl over some boiling water, dip in the strawberries then let the chocolate set in the fridge.
3. Cereal
Perfect for hitting the sweet spot without going all-out unhealthy, a simple bowl of cereal with nonfat milk is a no-brainer. Check out these suggestions to find out which cereals give you more in terms of protein and fiber. Other cereals which are lower in sugar are cornflakes, Special K, Weetabix and Cheerios; top with a sprinkle of cinnamon for a hint of added sweetness.
4. PB&J
It's a classic with just enough sweetness from the jelly to satisfy your cravings. And the bonus is that it also packs in healthy fats, fiber and protein; top a slice of whole grain bread with peanut butter, add your jelly of choice and enjoy!
5. Animal Crackers
Not just for little kids, these snacks are low enough on the calorie and sugar front to enjoy a whole zoo of animals; a good-sized handful of around sixteen crackers has only around 120 calories and less than 7g of sugar.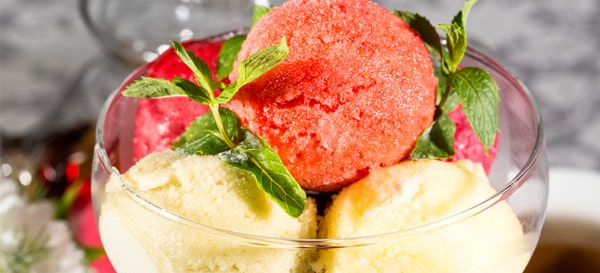 6. Pineapple & Banana Sorbet
Fresh and fruity, this is perfect for the summer months. Blend pineapple chunks with banana, lime juice and stevia, and then freeze the mixture for three hours. As well as satisfying your sweet tooth, this sorbet provides vitamin C, potassium and tryptophan, and both pineapples and bananas help with muscle strengthening and recovery.
7. Cinnamon Toast
When you're on the hunt for something sweet but the cupboards are almost bare, this can tide you over until you get to the supermarket. Toast a slice of whole grain bread, spread it with 1/2 teaspoon of butter or margarine, 1/4 teaspoon of sugar, and as much cinnamon as you like.
8. Chocolate Milk
If you're a fan of chocolate milk then we have good news; research shows that it's actually a great post-workout drink as it hydrates, provides protein and replenishes energy! But, you should skip the shop-bought chocolate milk and make your own. Just mix two spoonfuls of low sugar cocoa powder with a drop of nonfat milk, stir to form a paste then add the milk slowly, stirring throughout.
9. Oat & Yogurt Parfait
Top a cup of frozen berries with half a cup of oats and a small tub of nonfat unsweetened Greek yogurt, mix and enjoy! This works as a substitute for ice cream and is also a good breakfast option when it's too hot for oatmeal.
10. Frozen Grapes
It couldn't be easier – pop some grapes in the freezer for a few hours and get a long-lasting sweet treat in return. And, thanks to the antioxidants and resveratrol that grapes contain, they give you a good health boost too!
Do you have any tips on how to cut down on sugar and calories while indulging your sweet tooth? Let us know by commenting below!