The Truth About Taking Water Pills On Phentermine
Many people losing weight with phentermine search for ways to increase their weight loss potential by adding supplements like Phen Caps, 5-HTP, and B12 injections to their daily dose of phentermine. Worryingly, it is also becoming more common for phentermine users to take water pills alongside their phentermine prescription thinking that this will increase weight loss. Here we explain why water pills should not be used for weight loss purposes, and why it could be very dangerous to combine water pills with phentermine.
What Are Water Pills?
Water pills, known formally as diuretics, pressure your kidneys to flush out unnecessary water and salt from the body through urine. One of the most commonly prescribed medications, doctors usually give diuretics to people whose bodies are unable to regulate fluid intake. Getting rid of excess salt and fluid helps to lower blood pressure and can make it easier for the heart to pump. So, water pills are often prescribed to patients with heart-related health issues like hypertension, heart disease, and heart failure, as well as other conditions such as liver problems and glaucoma.
Can Water Pills Help Weight Loss?
In a word, no. Despite the commercials you might have seen promoting water pills as a quick slimming solution, they should never be prescribed to people looking to lose weight and keep it off because diuretics have no effect on body fat. The effect produced by water pills is a classic example of how the scale does not represent the whole picture when it comes to weight loss. While it is true that diuretics will flush out water from the body, and could lead to a lower scale reading, this effect is temporary and not an indicator of weight loss. This is because as soon as you stop taking the water pills, your kidneys will go back to absorbing the right amount of water and salt for your body, causing the scale to show your true weight again.
Motivated by a desire to see a lower number on the scale, some people choose to take over-the-counter (OTC) water pills as a means to reduce bloating and drop water weight. It is important to highlight that these OTC diuretics are not the same as those prescribed by doctors. OTC water pills are not regulated by the FDA and may not contain the ingredients they claim to contain. For this reason, many doctors actively discourage patients from taking OTC diuretics as they could easily be misused and cause dangerous side effects.
And, aside from the potentially dangerous side effects of taking water pills, long term usage can actually cause weight gain. Yes, that's right – weight gain! If you take diuretics over a long period of time (this length of time can vary from person to person), your kidneys eventually start to compensate for their use. Your body ends up retaining more water and sodium in the kidneys than it needs. This then causes the body to swell as a result, a condition known as diuretic-induced edema, which is very difficult to treat.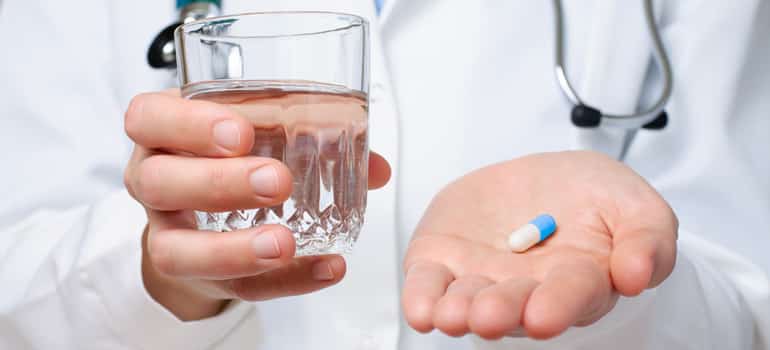 Taking Water Pills On Phentermine
Based on the comments in our support group on Facebook and blogs, more and more people are taking water pills alongside phentermine. If these are prescription diuretics then this would indicate that the patient has problems regulating fluid intake and may have a heart condition. In that case, since phentermine can have negative effects on the heart, it is essential that all doctors treating the patient in question are fully informed that the patient is taking water pills and phentermine, and possibly other medications too. Certain heart problems such as hypertension would usually exclude a patient from being prescribed phentermine, as shown here. Despite this, in cases where the heart condition is under control, doctors will sometimes choose to prescribe phentermine as a means to help the patient lose weight in order to help his or her overall health.
However, several phentermine users have been in touch with us to report that doctors, especially those at weight loss clinics, are prescribing water pills alongside phentermine to boost weight loss results, and not because of any medical need for the diuretics. If you have been prescribed water pills without being fully informed of what they were for, then we would urge you to get in touch with your family doctor to seek further advice.
More worrying is the possibility that phentermine users are choosing to take OTC water pills thinking that it will help them drop weight faster. Taking water pills unnecessarily can lead to dehydration and a loss of electrolytes, which can then cause scary symptoms such as heart palpitations, muscle weakness, dizziness and confusion. And, since OTC diuretics aren't regulated in any way, it's hard to say if the recommended dosage on the pack is safe even before you start mixing them with phentermine and the additional side effects it can cause. Phentermine is also a dehydrating drug, shown by the way that it causes dry mouth in the vast majority of people taking it. Combining phentermine and water pills without a doctor's supervision could be a dangerous mix as you may become severely dehydrated, running the risk of dizziness, fainting and even seizures.
If you're looking to boost your weight loss results with phentermine then water pills are clearly not the answer. Not only do they not help you to lose fat, they can even cause the kidneys to overcompensate for their use and lead to water retention and swelling. The only way to truly lose weight is by eating more nutritious food to fuel your body well, and by adding more activity to your day to help build muscle and burn fat. Phentermine helps you to do these things by suppressing appetite and boosting your energy levels. However, if you feel that phentermine isn't helping you as much as you had hoped then adding Phen Caps to your phentermine prescription is a great way of getting your energy levels up and your hunger down, leading to real long-term weight loss.
…
Are you taking water pills with phentermine? Have you taken water pills in the past? Please let us know by commenting below.