Best Weight Loss Apps for Your Phentermine Journey
For many of us, daily support and guidance from an app or online community is key to weight loss success. There are activity trackers, calorie counters, fitness challenges, forums and meal planners… all instantly available at our fingertips, and often free of charge! Still, sometimes the sheer number of options can be overwhelming. Here we'll discuss some of our favorite weight loss apps to help you along your phentermine journey and beyond.
The App Debate
Like lots of new technology, weight loss apps are a hot topic – some people love them, some people hate them. The biggest draw of weight loss apps is that they are convenient, free (or cheap), and individualized. It's fun to use technology to better your health, and you can't beat the convenience of having a health coach in your pocket! Better yet, many apps allow you to share your progress with a community or friends. Research shows we lose more weight with the support of others, and social media or in-app communities can provide the perfect cheerleaders. This benefit only strengthens as the apps grow in popularity. If you're more the private type, weight loss apps still deliver lots of motivation through tracking, graphs, pictures, checkpoints and encouraging messages.
However, some people still question the effectiveness of weight loss apps. The hardest part of tracking apps is maintaining the discipline to enter daily food and exercise over time. Research shows that people who keep a food diary lose more weight than those who don't, but it's hard to track when you're busy or in social situations. Thankfully, technology makes it easier to enter foods quickly when you're on-the-go. Limiting data entry also helps make tracking less tedious and more likely to turn into a long-term habit. Experts recommend only logging twice a day – once right after lunch and once before bed. Finally, apps vary in quality and function, and even the best apps can't compete with the expertise or analytical skills of health professionals. If you require more complex dietary or exercise advice, it's still best to seek the advice of a qualified professional.
Overall, weight loss apps offer some helpful tools and advice, but their value ultimately depends on the user. Real weight loss happens in real life not in an app, but a fun and informative app can give you the push you need to stay motivated and stay on track.

5 Popular (and Useful) Apps for Weight Loss
There are hundreds of apps to choose from when you search for weight loss apps in your phone's app store. We've done some research and below is our list of apps to try while you're losing weight with phentermine (and beyond!). Everything on this list is free, but they all have options to purchase upgrades within the app.
MyFitnessPal
MyFitnessPal (MFP) was one of the first popular weight loss apps, and has successfully stood the test of time by remaining popular, up-to-date and well-rated. It is a calorie-counter that allows you to log food, drinks and exercise to track energy intake and expenditure. It's popular for its large database of foods, ease of use, barcode scanner, nutrient tracker, and goal-setting functions. They also have an extensive and informative website and online community to complement the app, plus the ability to sync with various other fitness apps and trackers. The biggest complaint about MyFitnessPal is difficulty in logging original recipes, but this is a common complaint among electronic calorie counters. Overall, MyFitnessPal is a great app to use if you're looking to develop long-term healthy habits and get a better grasp on your daily (or weekly) energy intake versus expenditure.
Lose It!
LoseIt! is another calorie-counter similar to MyFitnessPal. The main difference between these two popular apps is that LoseIt! has a "quick add" feature where you can just type-in the nutrition information (calories, fats, carbs, protein) instead of logging a precise food, and the daily meal summary appears with little icons next to each food. It also has the option take a picture of your plate and the app will suggest a few options for what it thinks you may want to log. LoseIt! isn't quite as strong as MyFitnessPal in its ability to sync seamlessly with other fitness apps and trackers. Nonetheless, this is another great app for those looking to track their energy balance and develop long-term healthy habits by setting goals, logging food/exercise and seeing progress.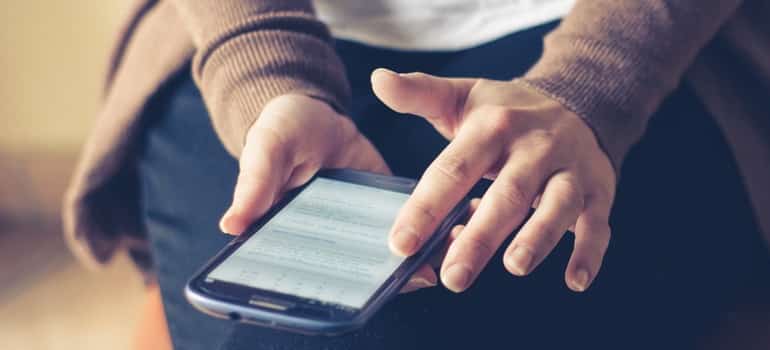 Fooducate Weight Loss Coach
Fooducate tracks intake and exercise too, but it also helps you make healthier choices by analyzing the nutritional content of your foods. The basic premise is that you can track not only quantity of calories in and out, but also quality. This app will give your food a grade A through D, and recommend other healthy meals based on what you already eat. Fooducate also has a large and supportive online community to help you in your weight loss journey. It won 1st prize in the US Surgeon General Healthy App Challenge, and is a popular name on "best app" lists.
Sworkit Personalized Workouts
Sworkit is a super-customizable workout app designed for people at all levels of fitness. They offer workouts from beginner to advanced, ranging from 5-60 minutes, and targeted at the goals you specify when you sign up. Perfect for the at-home exerciser, this app is filled with "how to" videos demonstrating body weight exercises that don't require equipment. It was also recently voted #1 for its adherence to the American College of Sports Medicine's training guidelines for safety, stretching, progression, etc. You can do individual workouts in the free version, but if you want to follow an individualized workout plan you'll need to sign-up for Premium ($7.99/month or $59.99/year). Sworkit is a great option for people looking to start exercising again, especially those who are starting from scratch or don't like the gym.
30 Day Fit Challenge Workout
30 Day Fit Challenge is a free home workout app that's consistently well-rated and easy to use. As the name suggests, the idea is a 30-day workout plan that you can do at home without equipment. You choose which body part to work and then it has three levels – easy, medium or hard – so you can pick the plan that is best for you. The app comes with illustrations and directions for each exercise so you can do new exercises, even if you weren't familiar with them before. It also offers a weight tracking function so you can see your progress over time. Like Sworkit, this app is great for people who don't like (or can't go to) the gym, or are just starting to work out.
Easy Guide to Weight Loss Apps
If you're more of a visual person, the infographic below summarizes the text above. This is a great resource to pin or share if you'd like to remember the apps for later!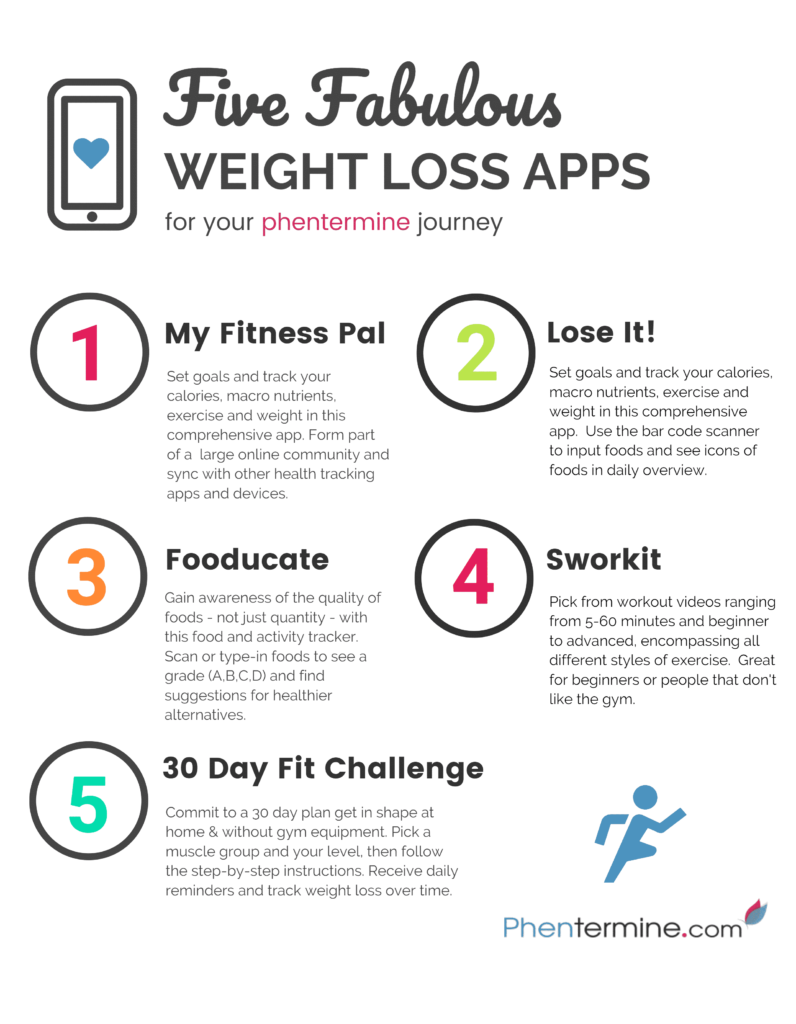 Do you use weight loss or fitness apps? Do you have a favorite, or use one we didn't mention? Let us know in the comments section below!