Phentermine Around the World
Last Updated: December 2, 2021
Phentermine was first approved in the US in 1959, but over the years this prescription weight loss medication has earned global renown as a quick and effective weight loss solution. Now, doctors in dozens of countries prescribe phentermine to their patients in hopes of achieving major weight loss results within a matter of months. Here we explore how and where phentermine is prescribed.
United States of America
Phentermine is widely produced and sold in the United States. It is currently the most popular prescription weight loss medication in the country ( 1 ).
US residents interested in phentermine, schedule an appointment with your primary care doctor to discuss weight loss. If you receive a prescription for phentermine, you can fill it at most local and chain pharmacies.
Most prescribing doctors require will require that you come back every month to check tolerance and renew your prescription.
Brands available in the US: Adipex-P, Lomaira, Qsymia and generic phentermine hydrochloride
Discontinued brands include: Fastin, Ionamin, Obestin, OBY-Trim, OBY-Mast, Suprenza, Tora, Wilpo, Wyamine Sulfate and generic phentermine resin ( 2 ).

Canada
Phentermine used to be sold in Canada, but was "cancelled post-market" (discontinued) due to safety concerns. Wyamine was the first to be withdrawn in 1998, then Fastin 30mg was withdrawn in 1999 and finally Ionamin (15mg and 30mg) in 2007 ( 3 ).
Similar stimulant-based appetite suppressants, such as diethylpropion (Tenuate), have also been withdrawn from the Canadian pharmaceutical market in recent years.
At this time, phentermine is NOT legally available in Canada.
Mexico
Phentermine is available in Mexico with a valid doctor's prescription.
If live in Mexico and you're interested in losing weight with phentermine, make an appointment your doctor or a local weight loss clinic. They will take your measurements (weight, blood pressure, etc.) and make sure you do not take any medications or suffer from any medical conditions that make phentermine use dangerous. If the doctor decides that you are a good fit for this drug, he or she will write you a prescription. With a valid doctor's prescription in-hand, you can buy phentermine at most pharmacies.
Brands available in Mexico: Acxion, Terfamex, Raamcap and generic phentermine hydrochloride ( 4 )
Chile
This medication is widely available in Chile.
Phentermine sales have exploded in Chile in recent years, going from less than 4,000 boxes in 2012 to almost 1,000,000 boxes sold in 2017 – just five years later (5). To purchase this medicine in Chile, you'll need a valid "receta cheque" from a medical doctor. You can then fill this prescription at most major pharmacies.
Brands available in Chile: Obexol, Sentis, Elvenir, Finapet and generic phentermine hydrochloride
Discontinued brands: Inosie ( 6 )

European Union
In 2000, the European Medicines Agency banned the use and sale of prescription appetite suppressants within the region. They removed phentermine from the market based on concerns about patient safety and potential addiction or abuse ( 7 ).
Several countries that had previously permitted the prescription and sale of phentermine withdrew this medication from market following this decision.
Spain
At one point, the Spanish Medicines and Health Products Agency (La Agencia Española de Medicamentos y Productos Sanitarios) authorized phentermine for legal sale. However, this permission was withdrawn in-line with the European Medicines Agency's recommendation to cease phentermine sales throughout the EU in 2000.
As a result, phentermine is NOT legally available in Spain.
England
Phentermine is not available from the NHS.
All stimulant-based appetite suppressants were withdrawn from the English market following the European Medicines Agency's 2000 decision to ban such substances.
The only prescription weight loss medications currently available through the NHS are Xenical or Alli ( 8 ). These pills both contain orlistat as the active ingredient and work by decreasing the absorption of dietary fat in one's GI tract.

Australia
Phentermine is widely-available in Australia, but only with a doctor's prescription.
Australia dictates that this medication should be used for three months or less to manage exogenous obesity. If you live in Australia, schedule an appointment with your GP to talk about phentermine and he or she will evaluation if this medication is right for you. It's possible to fill the prescription for phentermine at most Australian pharmacies.
Of note, a higher-dose of phentermine resin (40mg) is available for patients in Australia and sold under the brand name Duromine.
Brands available in Australia: Duromine, Ionamin, Metermine and generic phentermine resin ( 9 )
New Zealand
Phentermine has been sold in New Zealand for over 40 years, and remains a popular option for patients wishing to kickstart their weight loss journeys.
Like in other countries, phentermine is a controlled substance and tightly regulated in New Zealand. You will need a valid prescription to take this medication and the Ministry of Health conducts regular check-ups to ensure that phentermine is being prescribed responsibly. This program is supposed to help minimize abuse potential.
Phentermine is NOT subsidized/funded by Pharmac, so it remains an expensive choice for the average consumer.
Brands available in New Zealand: Duromine (15mg & 30mg) and generic phentermine resin ( 10 )
South Africa
Phentermine is sold as a prescription-only medication in South Africa.
Similar to other countries, individuals interested in phentermine should first schedule a doctor's appointment. After reviewing your measurements, medications and medical history, the doctor will decide if phentermine is right for you. You can fill a phentermine prescription at most South African pharmacies.
Brands available in South Africa: Duromine, Metermine and generic phentermine resin.
Looking for a Non-Prescription Appetite Suppressant?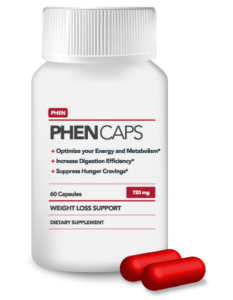 Do you live in a country where phentermine isn't available, or don't qualify for prescription appetite suppressants? Phentermine.com officially recommends Phen Caps as an over-the-counter, all-natural weight loss aid.
This supplement helps reduce appetite and boost energy so that you can reach your weight loss goals faster. It achieves these effects using nine natural ingredients, so it doesn't cause the range of negative side effects often associated with prescription (chemical) appetite suppressants.
Click here to learn more about Phen Caps and order now!
Hendricks, E. J., Rothman, R. B., & Greenway, F. L. (2009). How Physician Obesity Specialists Use Drugs to Treat Obesity. Obesity, 17(9), 1730-1735. doi:10.1038/oby.2009.69
Drugs@FDA. (2018). FDA-Approved Drugs.
Government of Canada, Health Canada, Public Affairs. (2016, December 06). Drug Product Database Online Query.
Gobierno de México. (2018). Consulta de Registros Sanitarios.
Tele13. (2017, September 26). Fentermina: ISP alerta por aumento de consumo de fármaco para bajar de peso en los últimos 5 años.
Instituto de Salud Pública de Chile. (2018). Consulta Productos Registrados.
The European Agency for the Evaluation of Medicinal Products, Evaluation of Medicines for Human Use. (1999, September 9). August Press Release [Press release].
NHS. (2016). Obesity.
Australian Government Department of Health. (2018). Search the TGA website: phentermine.
New Zealand Ministry of Health. (2018). New Zealand Universal List of Medicines.