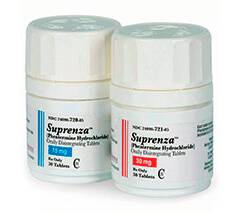 Suprenza was a phentermine-based orally disintegrating tablet (ODT) that was removed from market in 2018. Phentermine is a popular prescription-only weight loss medication and Suprenza was the only ODT option in the US. Still, in 2016 the manufacturer announced the discontinuation of this product to devote company resources elsewhere ( 1 , 2 ).
What was Suprenza?
Suprenza was a peppermint-flavored orally disintegrating tablet that dissolved on the tongue.
It was a prescription appetite suppressant that contained phentermine hydrochloride (phentermine HCL) as its main ingredient ( 1 ).
Like all phentermine diet pills, Suprenza worked by activating the central nervous system and suppressing hunger. The pills' active ingredient also increased energy, which helped encourage additional physical activity.
It was designed to be used in combination with a healthy diet and regular exercise and, since phentermine can be habit forming, Suprenza could only be prescribed for a short period of time.
Phentermine is a class IV controlled substance in the US, so this medication was only available under a doctor's prescription. Suprenza was never available outside of the United States ( 3 ).
Presentation
Suprenza was sold in three doses: 15mg, 30mg and 37.5mg.
The 15mg ODT was a round, yellow tablet with blue spots. It was embossed with AX4 on one side.
The 30mg ODT was a round, yellow tablet. It was embossed with AX7 on one side.
The 37.5mg ODT was a round, white tablet with blue spots. It was embossed with AX8 on one side.
These doses are equivalent to 12 mg, 24 mg and 30 mg of phentermine base, respectively ( 4 ).
Who Took Suprenza?

Suprenza was an option for overweight and obese patients who had already tried losing weight with diet and exercise alone. It was designed for people with a body mass index (BMI):
Greater than 30 kg/m2
Greater than 27 kg/m2, plus at least one weight-related condition
Weight-related conditions that may have qualified an overweight patient for Suprenza include type 2 diabetes, high cholesterol or controlled high blood pressure ( 4 ).
If someone qualified in terms of BMI, a physician would then assess their overall health status, current/recent medications & supplements, and medical history to determine if this medication was safe and appropriate in that specific case.
Read more: Phentermine Contraindications
Suprenza was a good option for patients that have trouble swallowing pills. However, it was also much more expensive than similar doses of generic phentermine, so cost put these ODTs out of reach for many patients.
Dosage
Daily dosage was individualized to achieve the best response with the lowest possible dose. With Suprenza, the physician was responsible for defining the most appropriate dose for each patient.
However, the usual dose was one tablet per day taken in the morning, with or without food.
Due to its presentation as an ODT, Suprenza was more convenient than other phentermine pills. It could be taken at any time of the day: before, during or after meals.
Side Effects

Similar to other phentermine weight loss pills, potential side effects of Suprenza included ( 4 ):
Serious
Primary pulmonary hypertension (PPH)
Regurgitant cardiac valvular disease
Common
Constipation
Diarrhea
Dizziness
Dry mouth/unpleasant taste
Headache
Increased heart rate/blood pressure
Mood changes (euphoria, dysphoria, psychosis)
Rash (urticaria)
Restlessness
Sexual side effects (impotence, changes in libido)Restlessness
Shaking (tremor)
Trouble sleeping (insomnia)
Suprenza Reviews
Suprenza was undoubtedly convenient, but did it actually help people lose weight? Reviews indicate that this medication generally worked well, but patients complained that it tasted bad and cost too much.
Curious about other brands of phentermine?
Who Made Suprenza?

Suprenza was manufactured in Switzerland by Alpex Pharma SA. It was distributed and marketed in the United States by Akrimax Pharmaceuticals, LLC ( 4 , 5 ).
Akrimax Pharmaceuticals, LLC
11 Commerce Drive, 1st Floor
Cranford, NJ 07016 USA
908-372-0506
akrimax@accelovance.com