Your Birthday and Phentermine
You've been doing great and consistently losing weight on phentermine, but it's almost your birthday. Hopefully you're excited for your big day, but maybe you're feeling a little anxious too? Lots of phentermine users have trouble navigating these special occasions without overdoing it on food and alcohol, or feeling totally deprived. Since birthday and holiday traditions are so intertwined with less-than-healthy food and drink choices, it's easy to feel like you're either abandoning your diet or not celebrating your special day. So, since neither guilt nor longing is the emotion you want to feel on your birthday, we're here to talk about celebrating a birthday on phentermine!
3 Steps for Avoiding Birthday Weight Gain
It's your birthday! Time to celebrate! There's three keys to keeping all those birthday celebrations from going straight to your hips: plan ahead, move a little and avoid alcohol.
#1: Plan Ahead
Preparation is the first step towards success. So, plan for your birthday just like you get ready for any other event! Plan where you'll go, what you'll do and what you'll eat. Here's a few ideas.
Think Outside the Box
Birthday activities are easier to control if you're planning the celebration, but you can also hint at your loved ones if they're in-charge of coordinating. If your family and friends are anything like mine, the go-to birthday party is eating out at a special restaurant. If you love eating out, then this is perfect. But if you're just as happy with checking out a new exhibit at the local museum, playing a few rounds of mini golf or exploring a new hiking trail, consider planning that instead! By choosing an activity that's not centered around food, you're already starting the year off right. Even if you have a special meal afterwards, you will have still included some healthy action in your day! Consider these celebrations to get your blood pumping:
Walk a fun 5K with your friends/family
Find a scenic hike
Go bowling
Explore a new museum or touristy spot
Savor a relaxing bike ride
Coordinate a group to play some mini golf
Try something new!
A Special Meal
If, instead, all you really want to do for your birthday is enjoy a nice meal with loved ones, that's perfectly okay too! To get ahead of any potential anxiety related to overeating on your special day, there's two tactics: (a) plan ahead and choose a restaurant with healthier menu options, or (b) acknowledge that it's a special occasion and let yourself indulge. Whichever strategy you choose, planning matters.
Navigating Restaurant Choices
Many restaurants have their menus posted online. After you choose what type of food you want for your birthday, go online to research the menus at different restaurants. Many major restaurants (especially chains) have a nutrition section on their websites where you can look-up full nutrition information on their plates if you want specifics. If you're going to a more local restaurant – or just don't want all the nitty-gritty details on your favorite foods – look for these "dos" and "don'ts" on the menu:
Using these guidelines, it should be easier to pick a restaurant that helps you stay on-track with your weight loss. In general: Thai, Japanese, Greek, Indian, South American and vegetarian restaurants offer a wider variety of healthy choices. Your wholesome options may be a little more limited at American, BBQ, Chinese, Mexican or bar food restaurants. Still, the best way to pick a healthy restaurant is to look at their specific menu and compare it to the guidelines above!
Moderation in Everything, Including Moderation
If you'd rather go all out and spoil yourself on your special day, planning is still important to make sure you're indulging in foods that matter! You'll feel more satisfied and less guilty if you have truly special foods (and drinks) on your big day versus just picking at a random, unhealthy meal. So, even if you're looking forward to an extravagant treat, it's still good to check out the menus and pick a great restaurant! To avoid undoing your hard-earned weight loss, choose a single meal to eat out on your birthday. Or, if you're going out with multiple people for different meals, choose a single course to eat something special. For example, either go all-out with a gourmet brunch OR a special dinner – not both. Or order special desserts at both meals, but still select a healthier main course. You get the idea. Choose your special treat and make it something you'll really enjoy. Also make sure it's a conscious choice to eat that food. Using this strategy, you'll feel more in control, enjoy the extravagance more, and be able to return your healthy eating habits more easily without the guilt of having gone unintentionally overboard!
#2: Break a Sweat
Find the time to schedule a sweat session for your birthday or the day after. If you've already planned a fun way to exercise on your birthday, grab your sneakers and a water bottle and go for it! If, on the other hand, you're reading this thinking "No. I am NOT working out on my birthday!" that's completely understandable too. Instead, schedule your birthday workout for the next day. This may work even better if you usually struggle to get back into the swing of things after a celebratory weekend. A short at-home workout may be just the thing you need to kick off your new year after the birthday celebrations finish!
#3: Skip the Drinks
Lots of us associate celebrations with alcohol, but while you're taking phentermine it's best to avoid alcohol. Phentermine and alcohol interact to increase the risk of side effects – including everything from dizziness to stress on your organs – so they're not a safe combination. Alcoholic drinks are also FULL of empty calories that use up your calorie budget and don't give you any added energy or benefit. For both your safety and your waistline, pass on the alcohol this year. Instead, choose a fun mocktail or special drink you wouldn't usually order (like a milkshake!).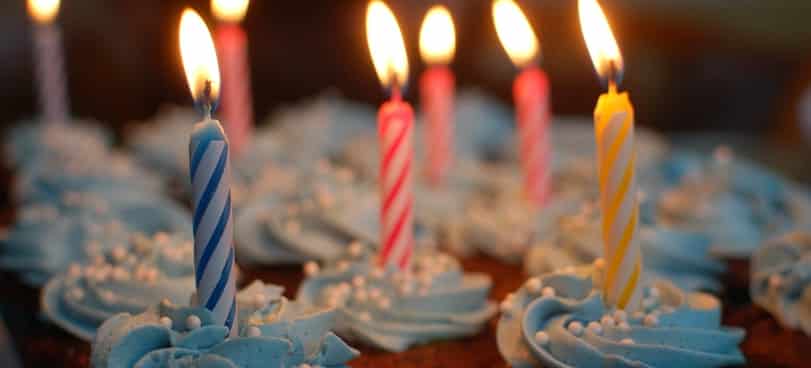 Birthday Weight Goals
The above tips are all good if you want to stay in-check while celebrating, but what if you're worried about something else? One of the most common comments about birthdays and phentermine is regarding birthday weigh-ins and goal setting. If you wanted to weigh X pounds by today, and you're still a little above that number don't let it ruin your day. I bet you're still skinnier than you were last year on this day, right? And healthier. And progressing towards that goal weight. So, be proud of yourself for how far you've come and have faith that you'll keep moving in the right direction! Getting healthier is the best way to start a new year, so focus on the gift you're giving yourself each day this year and forget about the scale.
Recovering From Your Birthday
Another birthday celebrated! Did you stick to your plans? Avoid over-doing it? If you did, great job!! That takes some serious commitment to healthy living and you did it – congratulations! If not, don't stress. It's just one day and you can get back on track today.
The key to successfully shedding pounds is consistency. No one is perfect, and no one eats healthfully 100% of the time. Still, people that lose weight and keep it off long-term know how to bounce back from their less-than-healthy days. The secret: go back to doing exactly what you were doing before the holiday. Don't try to overcompensate by eating 500 calories per day the rest of the week, or spending hours in the gym. Going to extremes isn't healthy, and it won't help you get back into healthy habits. Instead, recommit to sensible moderation and regular activity – just like you were doing earlier this week. One day won't matter in the grand scheme of your weight loss journey. A week or month of ups and downs and extremes will.
Have you celebrated a birthday on while taking phentermine? What did you? Share your tips and stories below!