The State of Obesity: Better Policies for a Healthier America
We last brought you the results of the annual report into US obesity rates in 2009, back when the report was titled, 'F as in Fat'. But after ten years of 'F as in Fat', the annual report from the Trust For America's Health (TFAH) has been given a new name for 2014's release; 'The State of Obesity: Better Policies for a Healthier America'. The reason for this change is that the authors believe that the 'F' no longer stands for failure, and wanted to reflect the progress being made while also continuing to raise awareness of the obesity epidemic and presenting ideas on how to overcome it.
The State of Obesity: Better Policies for a Healthier America
So what is the "state of obesity" in America today? TFAH report that the US is starting to see signs of progress. After decades of alarming increases, this year's report shows us that childhood obesity rates have stabilized in the past decade. They have also found that rates have declined in a number of places around the country — from Anchorage, Alaska to Philadelphia, Pennsylvania.
Adult obesity rates, however, show more mixed results and progress is slow. In 2005, every state but one reported an increase in obesity rates; this past year, only six states experienced an increase. Ultimately, however, adult rates remain far too high across the nation, putting millions of Americans at higher risk for a range of serious health problems, from type 2 diabetes to heart disease. But, rates are slowing down; over the past 35 years, obesity rates have more than doubled. But, from 2009 to 2010 to 2011 to 2012, rates remained the same, and while childhood obesity rates have more than tripled since 1980, the rates have remained the same for the past 10 years. Despite this slow-down, the big picture is that the average American is more than 24 pounds heavier today than in 1960. Essentially, obesity rates are becoming more stable, but at a rate which is already too high.
Geographically speaking, obesity rates show clear patterns across the US; nine of the 10 states with the highest rates of obesity are in the South. Northeastern and Western states comprise most of the states with the lowest rates of obesity. Mississippi and West Virginia have the highest rates of obesity at 35.1 percent, while Colorado has the lowest rate at 21.3 percent.
Other Health Concerns
The report also presents the increased risks of illness such as type 2 diabetes, where the 10 states with the highest rates of type 2 diabetes were all in the South, with Alabama the highest at a rate of 13.8 percent. Worryingly, the report explains that approximately 215,000 children (ages 2 to 20) have diabetes and 2 million teens (ages 12 to 19) have pre-diabetes. Youth type 2 diabetes (ages zero to 19) increased 30.5 percent from 2001 to 2009. Heart disease and hypertension are also huge concerns as the report states that one in four Americans has some form of cardiovascular disease. Heart disease is the leading cause of death — responsible for one in three deaths — in the United States. The 10 states with the highest rates of hypertension are all in the South, with West Virginia the highest at a rate of 41 percent. Furthermore, like type 2 diabetes, this is also affecting young adults; at least one out of every five U.S. teens has abnormal cholesterol, a major risk factor for heart disease – among obese teens, 43 percent (more than two in five) have abnormal cholesterol. Other health concerns as a result of increased obesity include increased risks of kidney disease, cancer, arthritis, dementia, depression and other mental health conditions.
The report also reveals the lack of physical activity in adults across the US, with Mississippi showing the highest reported percentage of inactivity among adults at 38.1 percent. As cause for concern was that forty states has rising rates of inactive adults in the past year, so this is a growing problem. The report also found that inactive children learn by example from their inactive parents, so future generations look to be continuing this problem.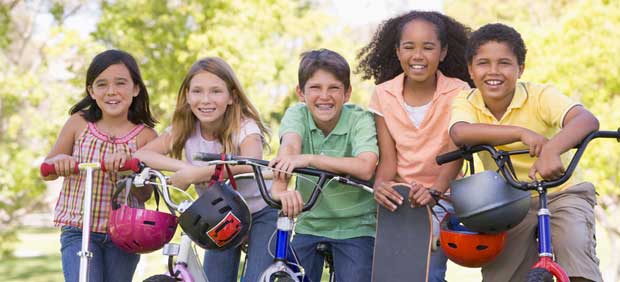 Suggestions & Recommendations
TFAH make a series of recommendations to increase activity levels in children as a way of overcoming this problem of inactivity and as a way of helping to reduce childhood obesity. Suggestions include implementing renovations to local parks, support to make it easier for children to walk and cycle to school, daily physical education, and improvements in after-school activity programs. The report also makes suggestions for improvements to school food and drinks provisions, and the need to make water constantly available to schoolchildren.
In terms of steps to improve adult obesity, the report recognizes the importance of making healthy food more available to those living far away from supermarkets providing fresh produce and other healthy options. It also reports how lower income families particularly struggle in this area and highlights how initiatives such as the California FreshWorks Fund  and the Pennsylvania Fresh Food Financing Initiative, which aim to increase the availability of healthy fresh food, are helping with this problem, while also have the knock-on effects of creating jobs and increasing city tax revenues. Accordingly, the report recommends that the federal government, states and cities should continue to prioritize and fund healthy food financing initiatives efforts as a health and economic strategy. The report also states that these food assistance programs should encourage and incentivize the purchase of healthy foods and evaluate strategies to determine which are most effective at improving consumption and health outcomes.
Other proposals made by the report include restricting the marketing of unhealthy foods, recommendations for maximizing the impact of obesity-prevention efforts in Latino and black communities, nutrition education in schools, and the encouragement of new health system approaches, such as ACOs, to incorporate community obesity prevention programs.
You can read the full report here: The State of Obesity: Better Policies for a Healthier America