How Does Phentermine Suppress My Appetite?
We all know that phentermine has helped many people to lose weight due to its effects which boost energy levels and suppress appetite, but just how does phentermine suppress appetite? For many, appetite suppression can hold the key to finally losing weight after many years of struggling with obesity, but is appetite suppression always a good thing? Here we answer the common question, "How does phentermine suppress my appetite?"
How Phentermine Suppresses Appetite
Phentermine causes the brain to stimulate the adrenal glands to release neurotransmitters which signal a fight-or-flight response, similar to the reaction of our bodies when we are faced with dangerous or exhilarating situations. By releasing the neurotransmitters norepinephrine, serotonin and dopamine, phentermine produces a satiating effect, increasing feelings of fullness, minimizing hunger, and reducing cravings. The appetite-suppressing effects of phentermine are usually strongest at the start of your prescription and can range from completely losing your appetite to slight appetite suppression, but often also includes feeling full much quicker than you would normally.
However, phentermine should not cause food to taste different or become unappealing. If food tastes different this is likely to be as a result of dry mouth, so to combat this side effect and soothe your dry mouth, while making sure you keep hydrated with plenty of liquids, we recommend the new product Phen Drink. Phen Drink is a soluble powder which is easily added to water to combat the extremely common dry mouth side effect. Phen Drink also contains ingredients which actually help to boost your weight loss potential by increasing metabolism and adding to the appetite-suppressing effects of phentermine, meaning that with the help of Phen Drink, your eight glasses of water a day will be working even harder to help you succeed on your weight loss journey.
Benefiting From Appetite Suppression
For many people, establishing more control over appetite and cravings holds the key to weight loss. This is because those who have tried and failed to lose weight by diet and exercise alone often struggle with problems related to appetite cues, satiety regulation and cravings related to food addictions and emotional issues. While it is debatable whether this problem originates as a result of genes, psychological issues, or is due to many years of eating badly, the fact remains that by manipulating neurotransmitters to control satiety cues, phentermine can successfully help obese patients regain control of their eating for what may be the first time ever.
With a reduced appetite, you should still experience feelings of hunger, but one that is satisfied with fewer calories than you would have typically needed prior to taking phentermine. Most doctors and weight loss experts agree that a minimum of 1,200 calories should be consumed each day, but that this daily allowance could be set higher, depending on the patient's start weight and loss required to reach a healthy BMI and body fat content. It is then up to you, with help and advice from your phentermine doctor, to make the right choices when it comes to establishing a healthier diet comprised of a variety of nutritious foods which also work to keep hunger at bay, such as fiber, protein and healthy fats. The appetite reduction phentermine provides also gives you the focus necessary to change eating habits without distraction from misplaced hunger cues and cravings, so that you can eat the right foods in order to provide your body with the nutrients and vitamins required for good health and weight loss.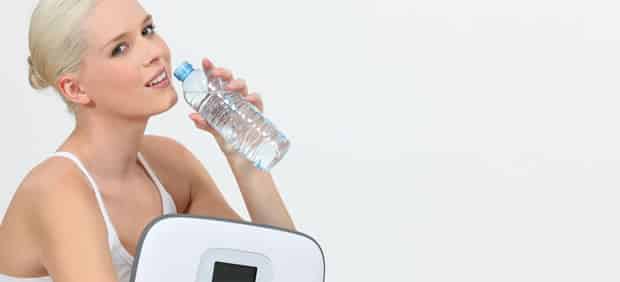 Getting the Balance Right
Due to individual differences, those taking phentermine can report many degrees of appetite suppression; while some people will report not feeling any different, others find that the appetite suppression is so strong that they can barely eat. While it may seem that struggling to eat anything is a good thing if you're trying to lose weight, as with most things in life, balance is essential when it comes to appetite, and neither too much nor too little is a good thing. With no appetite, you will be unable to eat enough to keep your metabolism running at a fast enough rate, and without the fuel it needs, your body will slow down, meaning that any food you do eat will not be turned into energy as efficiently by your body, resulting in slower weight loss. Even if you do manage to successfully lose weight on phentermine while eating very little, when your prescription comes to an end you will regain your appetite and, without having learned healthy eating habits, you are most likely to regain the weight you lost as well.
If you're just starting on phentermine and have little to no appetite then it may be that your appetite will become more balanced within a few days. However, if this effect continues and you're finding it difficult to eat anything, then we would recommend that you consult your doctor to make sure that your dosage isn't too strong for you. If you're eating fewer calories than the minimum 1,200 recommended by many health and weight loss experts, then it is also likely that you might not be consuming enough food to obtain sufficient quantities of essential vitamins and minerals. To help ensure that you meet your daily requirements for nutrients while dieting, we recommend Phen Vites, a multivitamin specially aimed at those taking phentermine to ensure that you feel great while you're losing weight. As well as many essential vitamins often found lacking in the typical American diet, such as magnesium, folate, and vitamins A, C, and E, Phen Vites also contain weight-loss boosting ingredients such as vitamin B12 and 5-HTP to help you make the most of your phentermine prescription.
If, on the other hand, phentermine isn't suppressing your appetite as much as you'd hoped, then these tips on how to suppress your appetite offer you some great ways to make sure that you're able to beat your hunger and concentrate on establishing a healthy way of eating.  A great way to boost the appetite-suppressing effects of phentermine is to combine your prescription with the weight loss supplement Phen Caps, which can also be taken on their own after your phentermine prescription ends to help you continue with your weight loss journey if you still have more weight to lose and want to benefit from continued appetite-suppression.
How does phentermine affect your appetite? Let us know by commenting below!