Back to School, Back to Weight Loss with Phentermine!
Summer with the kids is a time to really enjoy the weather, activities, and of course, have fun with your children. However, while you're looking after them your own goals can suffer, as you have less time to focus on your weight loss journey with phentermine. Here are 7 great tips to get you back to the top of the class for the new school year in your weight loss with phentermine!
1. Pack a Lunch
Days out with the kids during summer can be a lot of fun, but we all know how hard it can be to resist treating yourself while you're treating them to an ice cream or a corn dog. But, a long day of learning requires more nutritional foods, so when you send your children back to school with a healthy packed lunch, make sure to make one for yourself too. This way you can avoid the temptation of buying lunch out, and home-made food is always healthier than buying food to-go, as you know exactly what's in it, meaning you will see more weight loss with phentermine. You could also take advantage of the nice weather if it continues into fall by going for a walk and eating your lunch in a nearby park.
2. Set a Timetable
Even the most organized mom's plans tend to go out the window during the summer holidays, but once the school year starts again, it's time to get prepared in order to get top marks in weight-loss class! This means planning meals, having your snacks ready in Ziploc bags, bulk cooking and freezing meals in advance, plus having a kitchen full of healthy products with back-up tins and jars for when there's no time for shopping after work and school and you want to avoid the temptation of a take out. It's also important to factor in time for exercise, even if it's just a spare ten minutes here and there, make the most of whatever you have. However, it shouldn't be all go as even busy moms need some 'me time', so make sure to timetable in time for winding down with a book, relaxing in the bath or meditating, as getting the balance right is crucial for good health and weight loss with phentermine.
3. Learn Your (Vitamin) ABC
Losing weight can be tough on you and your body, and phentermine users can often suffer with side effects such as insomnia and low mood, so it's important to make sure that getting all the essential nutrients, vitamins and minerals to keep you healthy, especially with flu season coming up. The new multivitamins, Phen Vites, contain all the essential nutrients as well as the weight-loss boosters 5-HTP and vitamin B12, so they're the only vitamins you'll need if you're serious about weight loss.  What's more, if you're experiencing a weight loss plateau, then it may be because you're lacking in nutrients such as magnesium or vitamin C, which are essential for converting food into energy and keeping your metabolism running smoothly.
4. Keep a Report Card
Keeping track of the progress you've made is a great way to motivate yourself, and not just changes related to the scales. While it's natural to want to report weight loss with phentermine in numbers, it's important to remember that your weight loss journey is a marathon, not a sprint. Day to day changes are almost meaningless and very difficult to quantify, so also focus on changes over time. You should also look at your body composition and how it changes by using measurements, taking photos and trying on old clothes. That way, your scales may be giving you an F, but the jeans you hadn't fit into for years are giving you an A+! It is also a good idea to set goals that aren't weight-orientated; aim to build up your running speed or the number of push-ups you can do. Keeping a food journal is a great way to monitor how much you're eating, but why not also write down how you feel? Make a note of your energy levels, or things you can do now that you couldn't do last month.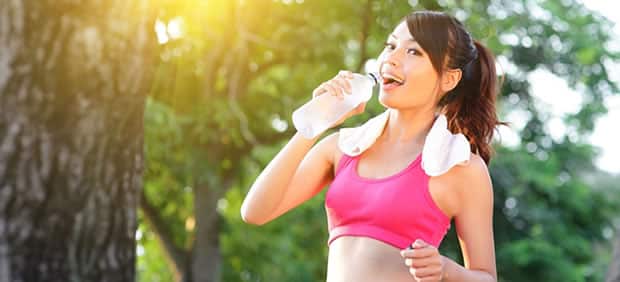 5. Expel Dry Mouth
Dry mouth is by far the most common side effect of phentermine, which can be very uncomfortable and often leave you feeling worse despite trying to get healthier while you aim for weight loss with phentermine. While drinking water is often used to cope with dry mouth, it doesn't solve the problem, which is a lack of saliva due to the stimulant effects of phentermine. Luckily, the great new product Phen Drink can be simply added to water to solve these problems and put an end to dry mouth for good. Find out more about this great new weight-loss boosting product here. Remember to keep hydrated even if you're not suffering from dry mouth, as drinking plenty of water makes your whole body more efficient and therefore boosts weight loss, so be sure to always have a plastic bottle with you to fill up at the water cooler or tap and drink continuously throughout the day. And, if you find drinking water a little boring then the great green tea taste of Phen Drink can help you add some flavor to your 8 glasses a day while boosting your metabolism.
6. Get Some Physical Education
The best part of the school day was always recess, where you got to go outside in the fresh air to run around and play sports with friends, so why can't exercise be fun and something you look forward to as an adult too? A great way to make exercise more fun is to make it into a social event, so try and get some of your friends together to play sports or go to classes together. Even if you're friends aren't into the idea, enrolling in classes like yoga, aerobics, dancing, and kickboxing is a great way to meet like-minded people and have fun, while the instructor keeps your motivation levels up throughout the class. And, since it's the new school year, why not treat yourself to some new gear? The clothes you work out in can really affect your desire to exercise, so forget the baggy grey sweat pants and opt for something colorful and fun; a great new outfit can be a big motivation booster when you head for a workout as the weather starts to cool!
7. Aim for Extra Credits
With the start of a new school term and new sports season, this time of year is a great time to make a fresh start if the year so far hasn't gone quite as planned. Constantly striving for new challenges is a great way to ensure that you don't get demotivated if things aren't going your way or if you have the occasional slip up. So, set yourself new goals and challenges for extra credits, such as aiming to run a little further each time, or try out a new healthy recipe once a week. Avoid all-or-nothing goals like going to the gym every day for a month, because if you miss a day then you might see yourself as a failure and give up, instead just aim for improvement and progress, not a flawless record. If you meet your challenges, treat yourself with non-food indulgences, such as a massage, nail polish, or a haircut – whatever your budget can afford that gets you motivated to really go for it.
However, if you feel that your phentermine prescription isn't helping you get the results you'd hoped for then the phentermine alternative and complement Phen Caps can give you additional energy and appetite suppression to help you start the new school year with an added boost!
Are you all set to get back to school and buckle down with weight loss? Let us know how you plan to get back to the top of the class this term by commenting below!