5 Awesome Products for Affordable Weight Loss
Weight loss can be EXPENSIVE. It's especially burdensome at the beginning when you're replacing all the less-than-healthy foods in your pantry, learning to cook new recipes and paying matriculation fees at the gym. So, how can you save money, lose weight and start living healthier today? Check out these five awesome products that put affordable weight loss within your reach!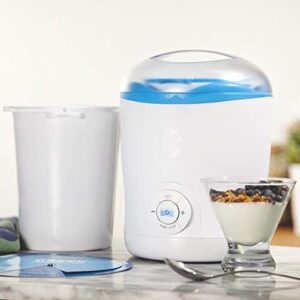 1. Dash Greek Yogurt Maker
Love the protein-packed punch of Greek yogurt, but cringe at the cost? If you're looking for an affordable weight loss solution, the Dash Greek Yogurt Maker is the kitchen gadget for you!
Nonfat Greek yogurt is an excellent source of protein during your weight loss journey. It's important to include protein in your regular diet because it promotes satiety (keeps you full), plus helps build & maintain muscle mass. Greek yogurt is a popular breakfast option – either solo or as a parfait – but it also acts as a great, healthy substitute for sour cream or heavy cream in savory dishes.
Unfortunately, it's not cheap. One quart (32oz) of 0% fat, plain Greek yogurt costs about $5, whereas a similar tub of normal yogurt costs about half that. That's why the Dash Greek Yogurt Maker is a such a cool product! Unlike store-bought yogurt, this gadget is relatively-cheap at just $27 on Amazon.
The Dash Greek Yogurt Maker allows you to make up to two quarts of homemade yogurt, although you'll normally make just one quart (32oz) at a time. Unlike many other homemade yogurt makers, you can make creamy Greek yogurt with any milk (yes, including non-dairy milks!) and it's naturally free of added sugar and preservatives.
Even though the Dash Greek Yogurt Maker started-out as a Kickstarter product, but has remained a popular years since its initial release in 2013. In fact, this time-tested product was named to yet another "best yogurt maker" earlier this year. Plus, this money-saving kitchen gadget comes in a variety of cool colors for all personalities: bright blue, pink or white.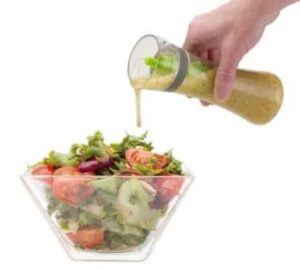 2. Jokari Portion Control Dressing Topper
What are the two foods that you most struggle to portion correctly? A lot of people struggle with portioning-out nuts or dressings/sauces. If you do too, these handy measuring tools are for you!
When you're working hard to lose weight, portion control is big part of the journey. Learning how to "eyeball" a healthy serving of nuts, sauce, peanut butter or meat takes work and you don't want to reach for your measuring spoons every five seconds. So, how can you make portion control a little easier?
Check out Jokari's Portion Control Dressing Cruet (topper) and Nut Bowl. Both of these gadgets take the work out of portion control and allow you to enjoy your favorite foods without the hassle.
The dressing topper, in particular, proves phenomenally useful in getting just the right amount of dressings and sauces. The topper fits on top of most store-bought salad dressings, so simply screw the gadget onto the top of your favorite dressing and squeeze a couple of times to fill the built-in 2 Tbsp measuring spoon. You can then pour your topping without worrying about measuring or overdoing it! Salads made easier.
Best of all, this dressing topper is only $9 (plus shipping & handling) at jokari.com making it a very affordable weight loss assistant.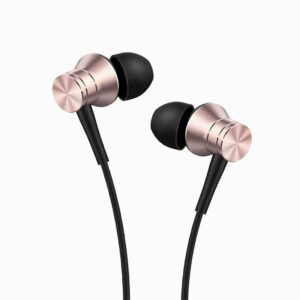 3. 1MORE Piston Fit Wired Earbuds
Looking for some great headphones at an even better price? Check out the 1More Piston Fit Wired Earbuds! These sleek-looking, high-quality headphones offer good sound quality for less than $20.
Music is an effective motivational tool, both for exercise and life in general. Research shows that listening to music helps your work out harder and burn more calories, plus makes tasks more enjoyable. To get the most benefit out of your music for motivation, look for tunes that you like (not necessarily top 40 hits), whose tempo matches the task and make sure to keep the playlist on shuffle.
1More Piston Fit Wired Earbuds will help get you in the groove, without breaking the bank. They're available in four sleek colors and produce impressive sound quality given the affordable price point. The ear buds are currently available for just $19.99 on 1more.com.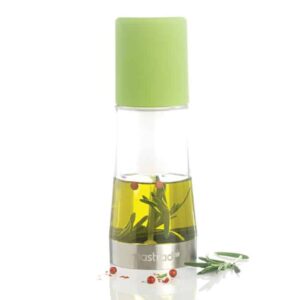 4. Mastrad Oil and Flavor Mister
Olive oil is a tasty, healthy fat that's a critical part of most of our weight loss journeys, but that doesn't make it cheap. If constantly drizzling chicken in veggies in heart-healthy olive oil is draining your food budget, check out this gadget that helps you lose less oil. More misting means less oil, fewer calories and a smaller grocery bill: win-win!
When you start cleaning-up your diet, one of the first changes is usually swapping fried for baked, and oil for cooking spray. Reducing the amount of fat used in cooking makes food healthier and lower calorie, so it's a relatively easy sway that reaps big rewards. Still, some people don't like using commercial cooking sprays (like Pam) because of the additives and not-so-environmentally friendly packaging. So, what can you do? Oil misters allow you to make a DIY cooking spray with your favorite oil, and even infuse it with flavor if you'd like.
The Mastrad Oil & Flavor mixer receives good reviews for both functionality and ease of use. This tool sprays a thin mist instead of the lines/squirts produced by most misters, and at just $13 it remains an affordable weight loss gadget. If you're looking for an alternative to store-bought cooking spray, check out this product! Available on online through Amazon or at a Mastrad store near you.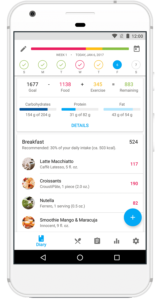 5. YAZIO App
This is the coolest meal planning and tracking app I've ever downloaded. And it's FREE!
A convenient, functional tracker app provides a lot of support during your weight loss journey. Regardless of which program you choose, logging meals and activity has been shown to increase weight loss and adherence to healthy habits. So, finding an app that works for you is a worthwhile time investment as you begin and continue your weight loss journey with phentermine (and beyond!).
At first glance, Yazio may seem like the standard tracker app… it asks for your goals, weight, height, what you want to track, etc. However, as soon as you fill-in the basic information and sync it with whatever other apps or trackers you use, you're taken to the homepage. There's an option to pay for "pro", but you can skip that for now.
I've used A LOT of weight loss apps, but this one is my new favorite because it includes a tracker and recipes! If you're like me, one of the absolute hardest parts of dieting is thinking of new, healthy recipes (or even what to have for dinner tonight). Yazio solves that eternal problem by prompting you with healthy meal ideas, complete with at-a-glance nutrition information. If you want to receive complete meal plans, you can pay for "pro" ($7/month or $40/year).
Yazio also uses quick-add buttons, so it's easier than ever to log meals and water intake (a major hassle with a lot of tracker apps). Finally, this tracker comes with several pre-set challenges if you need an extra little push to cut-out a specific type of food like salty snacks or sweets.
I honestly love this app. Check it out wherever you download apps, or go to yazio.com to learn more!
What do you think? Would you try any of these products to make your affordable weight loss products to make your journey cheaper or easier? Share your thoughts with us in the comments section below!