10 Ways To Save 100 Calories On Phentermine
When it comes to losing weight with phentermine, there are days when every calorie counts, especially if phentermine isn't suppressing your appetite as much as you had hoped. Whether you're looking for easier ways to cut out calories without feeling deprived, or you want to free up some calories to splurge later on something a little more indulgent, these tips all offer simple ways to cut 100 calories without even noticing!
1. One-Slice Your Sandwich
Lose the top slice of bread on your sandwich and save 100 calories straight away. After all, the filling is the best part, and this healthier spin on a tuna melt is way better than a sandwich anyway!
2. Make It Mozzarella
While we're on the subject of cheese, switch 3oz Swiss cheese for the same amount of mozzarella in your sandwich and save yourself 100 calories.
3. Skip The Juice
Swap your morning orange juice for a medium sized orange, and not only will this save 100 calories, but the hit of fat-boosting fiber will also keep you feeling fuller for longer, so it could help you eat fewer calories later too!
4. Swap Chips For Crudités
Dip a cup of vegetable crudités, such as chopped celery or red pepper, into your hummus or salsa instead of a 1oz serving of tortilla chips and save 100 calories, plus benefit from the goodness of the weight-loss boosting nutrients in the veggies!
5. Ditch The Dried Fruit
Try 1.5oz of fresh grapes instead of the same amount of raisins and save 100 calories!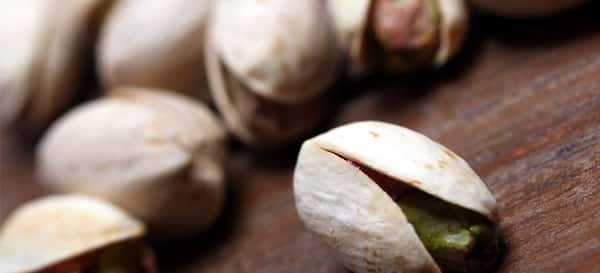 6. Pick Pistachios
Protein bars may seem like a quick and easy option for a protein-packed snack, but they also pile on the calories, sugar and fat. Go for 1oz of pistachios (about 1/4 of a cup) and save 100 calories while you also benefit from around 2g more protein. Plus, studies show that having to break the shells open helps you to feel as though you've eaten more, so you'll feel more satisfied.
7. Slim Down Your Salad
Top your salad with grated carrots or celery for added crunch instead of croutons and save yourself 100 calories.
8. Skip The Skin
Losing the skin on your chicken will save 100 calories per 20g of skin – opt for a lean skinless chicken breast for the best protein to calorie ratio.
9. Make It Meat-Free
Swapping the mince for lentils or beans in a spaghetti Bolognese is a guaranteed calorie-cutter; in fact you'll save yourself up to a whopping 250 calories per portion. For more vegetarian meal ideas, check out these recipes.
10. Switch Your Soup
Ditch the creamy soups in favor of a (preferably homemade) vegetable soup to save yourself at least 100 calories plus a whole load of sodium.
---
Whether you're cutting out 100 calories here and there to splurge on a treat later or just looking to cut down your calorie limit to boost your phentermine weight loss, making small changes like these will help to form healthier eating habits without leaving you feeling deprived. However, if you are finding it hard to eat fewer calories while on phentermine, then adding the weight loss supplement Phen Caps to your daily routine will have you saving a lot more than 100 calories with their appetite-suppressing effects. Find out more about how Phen Caps work here.
Do you have any tips to save 100 calories? Let us know by commenting below!